Other Worlds Austin Interview: Andrew Olson, 'Blackout'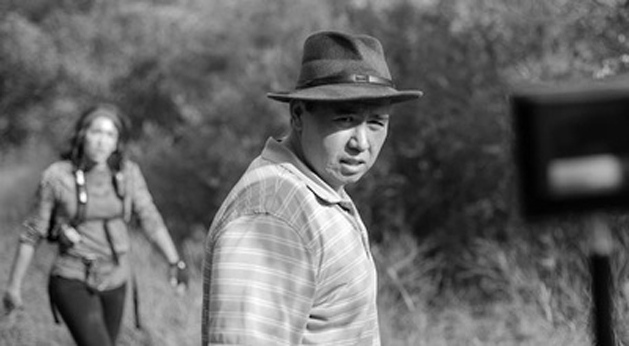 Set in a post-apocalyptic world, Austin-based filmmaker Andrew Olson's short movie Blackout made its world premiere at last weekend's inaugural Other Worlds Austin, the city's first dedicated science-fiction movie festival. The horror-thriller screened before the feature Apt 3D.
An online cast and crew call for Blackout decribed the Austin-shot short as "Mad Max meets Pitch Black." It takes place in the future, where a survivor in the fight against the monstrous Reapers comes face-to-face with them.
Olson, a University of Texas at Austin alumnus, said Blackout, still on the festival circuit, was created to help promote a future fundraising campaign for a "feature or episodic version" of the short.
Slackerwood: Did you initially consider Blackout to be science fiction?
Andrew Olson: Yes, I always considered Blackout science fiction and horror.
What makes a movie science fiction?
Olson: Usually, there has to be some sort of futuristic world or futuristic technology involved or space, or time, or aliens. Blackout was a future world with alien monsters.
What is the casting process like for short movies? Are people more or less interested in auditioning than they would be for a feature?
Olson: The casting process was the same as with a feature movie. We held open auditions and also called in actors from a database that our producer, Carrie Evans, had accumulated from other projects and auditions. A lot of actors in Austin are probably interested in auditioning for short films because of the lesser time committment, but also because there is a variety of roles, and for newer actors it's less pressure. Sets are just as intense and days are just as long on a short film as a feature film, but with the shorter script and running time there are usually less days on a short film, so the time committment is less.
What are the positives/negatives of being a freelance filmmaker?
Olson: The positives are freedom and artistic control, but financing is usually the biggest negative.
What is the importance of watching other filmmakers' short movies?
Olson: I've seen some amazing short films that rival the emotional impact of some feature films and they do it (in) such a limited time span. I think it's important to watch other filmmakers' short movies because making a short film is a different beast from a feature film, and some story elements that work in a feature won't work in a short film. A great way to find out what works is by watching short films, good or bad. You'll catapult yourself ahead of the curve by learning from others' successes and missteps.