Our Holiday Favorites 2014: Mixed Nuts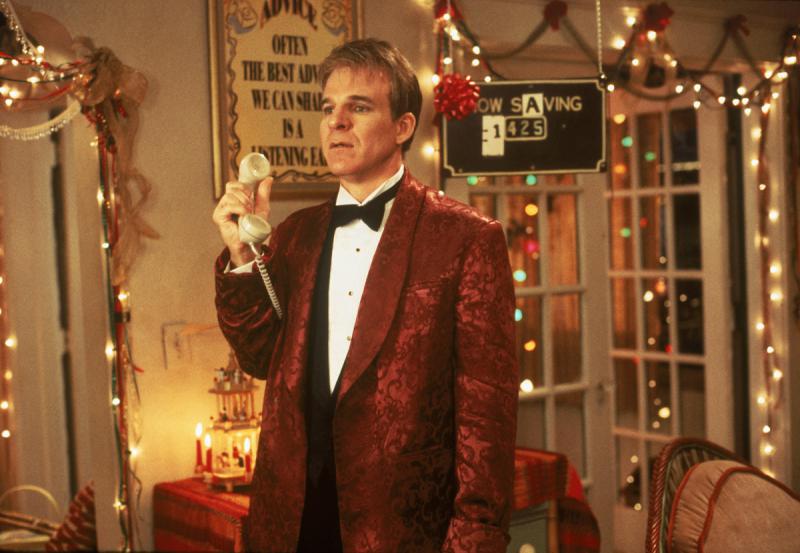 Welcome to Holiday Favorites, a series in which Slackerwood contributors and our friends talk about the movies we watch during the holiday season, holiday-related or otherwise.
The sadly forgotten Christmas comedy Mixed Nuts (1994) has been a holiday viewing tradition for me since its release 20 years ago. Co-written and directed by Nora Ephron from the earlier French film Le père Noël est une ordure (1982), Mixed Nuts bears almost no resemblance to the director's more famous romantic comedies. The holiday farce deals with the staff of a Los Angeles suicide hotline (Steve Martin, Madeline Kahn, Rita Wilson) who must contend with a bickering pair of expectant parents (Anthony Lapaglia, Juliette Lewis), a melancholy cross-dresser (Liev Schrieber), a quirky ukulele player (Adam Sandler) and other assorted characters as they face eviction as well as a serial killer known as The Seaside Strangler on Christmas Eve.
So much of Mixed Nuts is the exact opposite of what comprises the standard holiday movie, such as the dark flavor of comedy and the sunny Los Angeles setting (Christmas actually happens there too). And while plenty of Christmas movies tend to draw inspiration from Norman Rockwell, Mixed Nuts goes against the grain by being a film populated with individuals who would never be found in a Rockwell painting. These are people who, for one reason or another, dread the holidays. In that sense, Mixed Nuts is perhaps one of the most relatable and sympathetic holiday films in existence; a love letter for the individual who feels something is lacking for them during this time of the year. As Martin's character puts it: "Christmas is a time when you look at your life through a magnifying glass, and everything you don't have suddenly seems overwhelming."
That's not to say that Mixed Nuts is a depressing movie. In fact, nothing is further from the truth. The selection of holiday songs are highly enjoyable (including Amy Grant's stunning "The Night Before Christmas" which closes the film), the large comedic cast is fun to watch, the comedy, while dark, is plentiful and the film's climax opts for the hopeful, rather than the sentimental. All in all, Mixed Nuts is prime holiday viewing, even it does come in unconventional wrapping.
Where to watch: Mixed Nuts is available on DVD, Amazon Instant Video and in Austin, at Vulcan Video North.