Our Holiday Favorites 2014: White Reindeer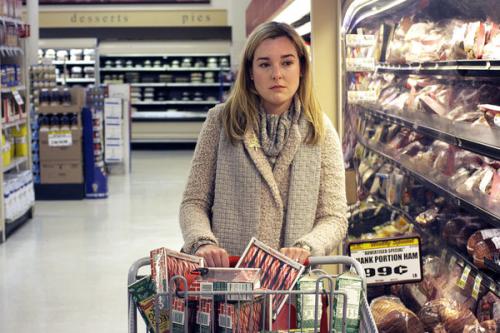 Welcome to Holiday Favorites, a series in which Slackerwood contributors and our friends talk about the movies we watch during the holiday season, holiday-related or otherwise.
Traditionally upbeat Christmas movies can be comforting, but there's something to be said for exploring the post-magic realm of holiday cinema. Characters with a melancholy streak and who are too cynical to be taken in by sparkly lights and tra-la-la-ing are pretty interesting to watch, and if you're in that kind of mood, too, then you should check out White Reindeer, which screened at SXSW in 2013.
Suzanne (Anna Margaret Hollyman) starts out as the opposite of a Scrooge; she's a realtor working in the Washington, D.C. area, excited for Christmas and for life in general. She has a meteorologist husband, they have important, exciting plans, and they are nice people who say "anyhoo" and buy each other the perfect Christmas gifts.
Very early in the movie, though, things take a completely unfestive turn. Suzanne finds herself alone and completely confused about what she should do with herself, and in terms of Chrismas, she is a bundle of misfiring impulses and misplaced emotions. Her once-favorite holiday has had all the joy pummeled out of it a few days before the 25th, and she's now left to endure everyone's else's merriment.
The wonderful thing about White Reindeer is that it acknowledges a very important fact: Christmas is a tough time for lots of people, and in Suzanne's newfound misery she's able to connect with a completely different human experience than she had ever previously considered. Never did she think she'd be visiting strip clubs, swinger parties or police stations right before Christmas (or ever), but this year's holiday, with all of its surprising demands, leads to a difficult but life-affirming set of circumstances.
Written and directed by Zach Clark (Vacation!, Modern Love is Automatic), White Reindeer's matter-of-fact tempo and dark humor give it thematic and aesthetic parallels to the films of Andrew Bujalski and Joe Swanberg (who appears in the film as one of Suzanne's neighbors). It's also an understated and nonchalantly sexual film filled with multi-dimensional characters who all seem to know or eventually learn that -- let's be grown-ups here -- Christmas is whatever the hell you want it to be.
Hollyman handles the role of Suzanne with humor and grace, and the chemistry and unexpected friendship she builds with her husband's ex-lover Fantasia, played by Laura Lemar-Goldsborough, ultimately becomes the heart of the story.
The film shines in its quieter moments, such as whenever Suzanne interacts with the kind-hearted Detective Ross, played by Austinite Chris Doubek. They exchange only a few words, but the warmth created during these brief scenes radiates outwards.
Helped along by a sensitive original score by Fritz Myers and a strong supporting cast, White Reindeer is a contemplative, funny and satisfying film that just happens to be a Christmas movie perfect for skeptics.
Witty and moving, this story of one woman's very sad December has become one of my favorite holiday-themed movies -- mostly because it's much more than that.
White Reindeer is available on Netflix Instant, iTunes, Amazon and Google Play.