Ready, Set, Fund: Crossing the Finish Line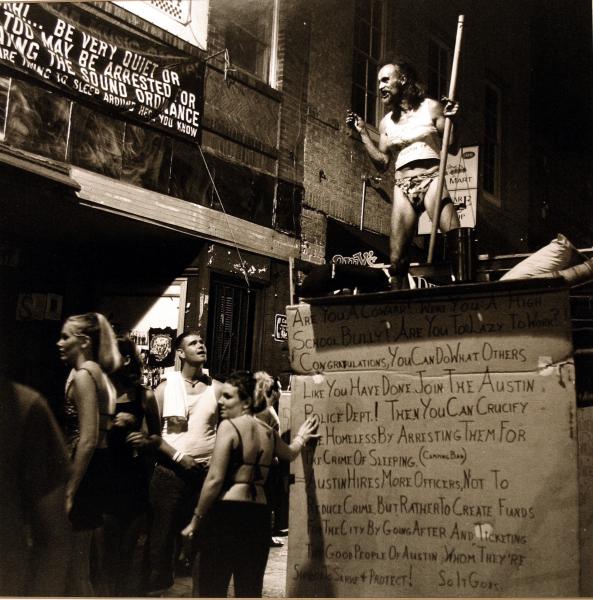 Ready, Set, Fund is a column about crowdfunding and fundraising endeavors related to Austin and Texas independent film projects.
'Tis the season for love, joy, and helping your friends get their films funded. With the holidays fast approaching, most of us have Christmas shopping and decorating on our mind. We're bringing you this month's "Ready, Set, Fund" with the hope that you'll spread a little extra holiday cheer, perhaps to some filmmakers in need of that extra $5 to meet their fundraising goal. Here are a few that are finishing up in the month of December...
Leslie is a project that's now been going on for almost ten years. Following the infamous Albert Leslie Cochran (known to veteran Austinites as just "Leslie"), the movie is described as an independent documentary that tells the untold story of Leslie and how his bizarre approach to activism catapulted him into becoming an unlikely civic symbol in Austin, Texas. Filmmakers Tracy Frazier and Ruby C. Martin are seeking funds to now complete the project all the way through post-production; their deadline is December 21. You can see more about the film in the video below:
The Conway Curve caught my attention because of its very sentimental and equally inspirational fundraising video. Writer/director Marian Yeager is teaming up with her sister Elizabeth to bring us a story that boasts itself to be "a family comedy caper where cons get conned & players get played." The film is about a young woman not only dealing with the recent loss of her father, but the re-entry of her estranged brother into her life. Marian Yeager is very honest in her filmmaking process, letting her donors know that she finally got the courage to make this film after several years. Their campaign ends on December 31 -- just in time for the New Year!
Miles and the Monster is filmmaker Dio Traverso's pre-thesis film -- he's earning his MFA at The University of Texas in Austin. The story is about a young boy named Miles who befriends a strange monster living in his backyard. When his dad begins to do some spring cleaning and tidy the yard up, Miles and the Monster must do what they can to stop him from destroying the Monster's home. Funding will go toward film processing, post-production and distribution. This campaign ends on December 29.
Have a project that you would like to be considered for an upcoming Ready, Set, Fund feature about crowdfunding and related fundraising endeavors for Austin and Texas indie film projects? Contact us with the subject line "Ready, Set, Fund."
[Leslie photo is courtesy of Tim Pipe and is used with the filmmaker's permission.]