Review: Big Eyes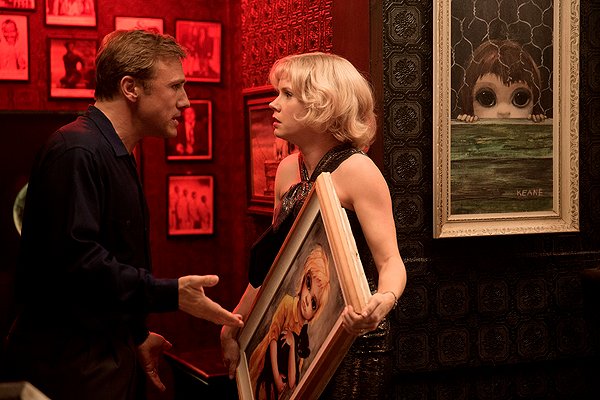 Twenty years after his only other biopic (Ed Wood), director Tim Burton returns to the genre with the movie Big Eyes. Co-writers Scott Alexander and Larry Karaszewski (who also wrote Ed Wood) combine elements of the fantastical with the all-too-real story of a man taking credit for a woman's work. Amy Adams (American Hustle, The Muppets) stars as Margaret Keane, whose paintings of haunted-looking children were all the rage in 1960s America ... but her husband Walter (Christoph Waltz, Django Unchained) passed them off as his own.
Burton tells Keane's story using a bright palette, giving a smooth look to his 1960s San Francisco setting, growing even bolder in color when the setting moves to Hawaii. There's a blithe feeling to Big Eyes, even as the movie tackles serious issues of the male-dominated mid-century canon of modern art and this female artist's loss of power in the face of her smooth operator/con artist husband. Adams as Margaret speaks with a soft Southern cadence opposite a strident Waltz, whose own bizarro accent here signals that he can't decide which part of the States his character is supposed to be from.
Margaret's single friend (Krysten Ritter, Don't Trust the B---- in Apt. 23) is dropped to the side as the artist becomes overwhelmed by her secrets and threats from her husband. Even daughter Jane (played as a girl by newcomer Delaney Raye, and as a teen by Madeleine Arthur, The Tomorrow People) is supposedly kept in the dark, although she was one of her mother's early subjects.
Big Eyes alternates uncertainly between a campy depiction of this pop art sensation and the more harrowing story of Walter Keane's domination of his wife. At one point early in their marriage, Margaret is depicted something like a madwoman-in-the-attic figure as she toils behind locked door on art she cannot claim as her own. It's as though the film wants to make a feminist statement, but is giggling about it at the same time.
Despite the wishy-washy nature of the storytelling and a script that sometimes verges on trite, Adams keeps the viewer eager to see how Margaret Keane's story will play out. Director Burton's strong fascination and dedication to the artist's work is obvious, making Big Eyes one of his most deeply felt films in years.