Bears Fonte Inaugurates Other Worlds Austin Festival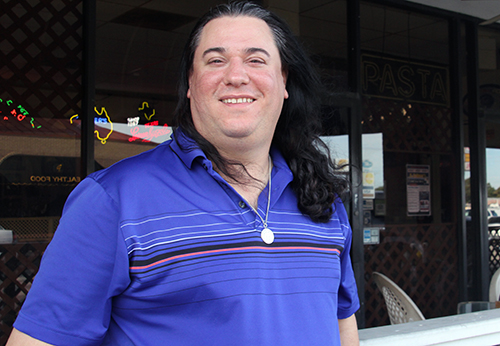 Science fiction has long been a favorite genre for me in literature and film. At Texas A&M, I was a member of Cepheid Variable, a student group devoted to science fiction, fantasy, horror, science and technology. I first saw John Carpenter's cult classic Dark Star at a Cepheid Variable B-Movie Night, and Something Wicked This Way Comes as part of Cepheid's 1984 AggieCon, the largest student-run fan convention in the world.
My insatiable appetite for science fiction has me often yearning for more of it at local festivals, so I was ectastic to discover that Austin's first science fiction film festival, Other Worlds Austin, will be held at Galaxy Highland from Thursday, December 4 through Saturday, December 6. Even more exciting is that former Austin Film Festival programmer Bears Fonté is the fest's founder and director of programming. I've long been a fan of Fonté's programming and we share a passion for short films. Fonté has written and directed his own films including the thriller iCrime and the sci-fi dramatic short The Secret Keeper.
I recently had the opportunity to interview Fonté over lunch at our neighborhood pub. We discussed how the late Housecore Horror Fest founder Corey Mitchell encouraged Fonté to start his own science-fiction festival, and offered him support and advice. Five percent of all proceeds from Other Worlds Austin ticket sales and merchandise will be given to the foundation that was started to fundraise for Mitchell's family.
Here's what Fonté had to say about what attendees can expect at the inaugural Other Worlds Austin Film Festival this week.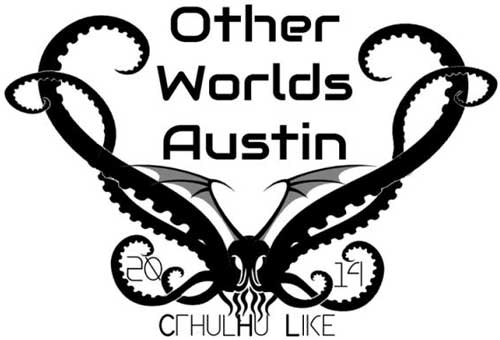 Slackerwood: Tell us about the Other Worlds Austin Film Festival.
Bears Fonté: The festival was done around a work schedule with parties before the films so that you aren't missing the films to go to a party. We want people to come and see the films. Adding the second theater for us was really exciting because we were able to program a couple more films that we really liked but maybe didn't fit in the program right away, or had similar content.
For the features, people will have a little bit more of a choice. The main films -- opening night, closing night and the centerpiece film -- will play in both theaters so that we can highlight those films. I didn't want to run a feature against a shorts program because the shorts are amazing. Such great filmmaking is being done in shorts that people don't see, and that's what film festivals are for, I think, is to expose new filmmakers to people and to get these great shorts up on the screen that they wouldn't normally get to play.
Can you talk more about short film as a medium?
Fonté: To me, in a short film you don't have to to please everyone in the audience -- I think that's part of it -- so you can take more chances. Because if an audience isn't into a short, it's going to be over in ten minutes anyway. But you can do things that you couldn't do in a feature, like you can make a really unlikeable character, because anybody will watch someone for ten minutes and think, "Oh, that's interesting." You wouldn't necessarily want to watch an entire movie of that.
You can have stories that are really based on one twist. They are sort of like short stories where you are setting up a character in a situation, and then you are paying that situation off. A feature has to have B stories, and all sorts of character development. Sometimes a great story can be told in ten minutes, and I think short films do that. It also gives filmmakers a chance to try things out, to work with different cinematographers or editing processes and try to get to understand what their style is, and take the chances that they wouldn't get to take in a feature when somebody else's money is at stake.
You see a lot more adventurous filmmaking in shorts. I love to see when a short filmmaker has had a series of shorts and then goes on and does their first feature because I feel like they are so much more ready. A lot of times those features are based on shorts that they've done, but even if they're not, they have that sense of confidence that I think you get from shorts.
With sci-fi especially, it's an expensive genre -- way more expensive than horror where you can just stab somebody with a knife and have fake blood and pretty much people buy it. Sci-fi you have to create a whole world with sets and costumes, and so sometimes it's just hard enough for a filmmaker to put together enough money to make a great 20-minute version of that world. They wouldn't be able to get the funding to do that as a whole feature, so you get to see some really exciting things.
What were the film submissions like for this first festival?
Fonté: We had so many short film submissions that I was surprised. I kind of based it on what I'd seen at Austin Film Festival, in terms of how many sci-fi short films there were out there. I thought to myself when i started this fest, if we get like a hundred short films that would be pretty exciting. I think that we could program a a couple of good programs off of that. We ended up getting 250 --- it was two and a half times more than I thought, which was really great numbers for our first year but it was just enough that we are pretty much playing everything that we really liked.
The other thing that we are going to do is show trailers for the films that we are going to play later in the week, before the films that are playing earlier in the week. I'm excited, I never see festivals do that.
There's an art to a trailer, and being able to tell or hint at a story in a trailer. That's a great example of filmmaking and editing. I'm in the process of redoing our webpage so that we'll have all the trailers up to get people excited about the films. It helps people get a visual sense, getting to see a trailer you get to feel some of the tension and the mood which is harder to get across from just a still.
Science fiction versus science fact -- when should the audience have suspension of disbelief, and when should a filmmaker operate within a construct that's been created?
Fonté: Some of the new films that we've recently added are science fact films, which I love. They are so close to reality like this new film called The Perfect 46, which is about a guy who invents a program that looks at your genetic code. If you are going to have a baby with someone, it looks at their genetic code and puts them together and helps match you up with your perfect genetic mate. I think that we are really close to that. I like that film because it's science fiction in that the thing doesn't exist, but it's so close to something that could exist, that it feels more like drama.
Another film that we added is like that, it's called The Phoenix Project, and is about these four scientists who get together and rent a house, and have funding to put together a project to reanimate. Having that is sort of science fiction, but the part that's most interesting is about how grants work, how people lie about their research that they've done or falsifying their records in order to get a little bit more money. It's sort of about the process of science, in addition to being about reanimation actually happening.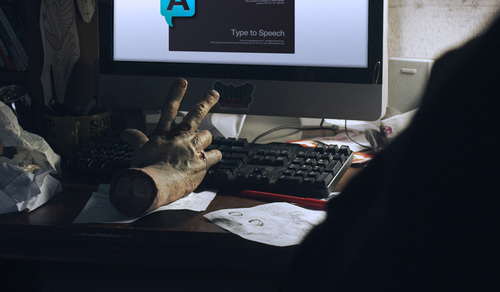 I was trying to find films that go on the whole spectrum of science fiction -- the ones that are very earthy and could happen, and the ones that are post-apocalyptic and you're like, "Wow! I hope that this doesn't happen." Ones that are so out there like this film called Bloody Knuckles (seen above), which is essentially toxic waste creates this hand that animates on its own and crawls around. All sort of back to being based in science fiction rather than not.
Which films screening at Other Worlds Austin have Texas connections?
Fonté: We have two shorts from Texas filmmakers -- the world premiere of Blackout by director Andrew Olson, before Apartment 3D. Producer and lead actress Maxxe Sternbaum of Apt 3D is from Houston. One Last Question by Austin filmmaker Sean Corbin is a four minute, one joke short film.
The Well, which is our opening night film, has a lot of Texas connections. The Well writer/director Tom Hammock was one of the main people behind All The Boys Love Mandy Lane, which was shot in Bastrop, and he does production design on that film and a bunch of Adam Wingard movies like You're Next and The Guest. I feel like those people are sort of honorary Texans.
One of the producers on The Well is Seth Caplan, who is an Austin filmmaker. He did Flatland: The Movie and Flatland: Sphereland which I played at Austin Film Festival. He also produced In Search of a Midnight Kiss by writer/director Alex Holdridge as well as his new film Meet Me in Montenegro, which I suspect will premiere at Sundance Film Festival.
The Last Wildflower by writer/director Jonathan Hal Reynolds (Where the Fireflies Die) is another short from Texas. That film was submitted to me at AFF last year, but we just didn't have room for it. I was really excited when he reached out to me, and wanted to submit the film again. That was one I knew that I was going to play because I had already liked it and felt guilty for not taking it.
There's at least two shorts in this festival that I had to pass over at AFF, just because we didn't have much room for sci-fi at a whole festival, which is the whole reason for doing this festival. Fantastic Fest will always have a couple sci-fi films, but they do everything -- and they do everything great. They are so good that a lot of their films are pretty big-budget or are heavily anticipated indie films, whereas a lot of our films are going to fly under the radar and I don't think people will have a chance to see them otherwise.
Every single feature we are playing ended up being a Texas premiere, even though that wasn't something that I required. They just aren't having opportunities to show here, and Austin is such a great town for sci-fi and geek culture. I think we are kind of the geek capital of the world now.


Wristbands for Other Worlds Austin, which get you access to all the parties and screenings, are $45, and can be purchased online here.
[Photo credit: Bears Fonté by Debbie Cerda, for use with attribution by request]