Sounds Like Film: 'American Hustle' Soundtrack Expanded for Vinyl Release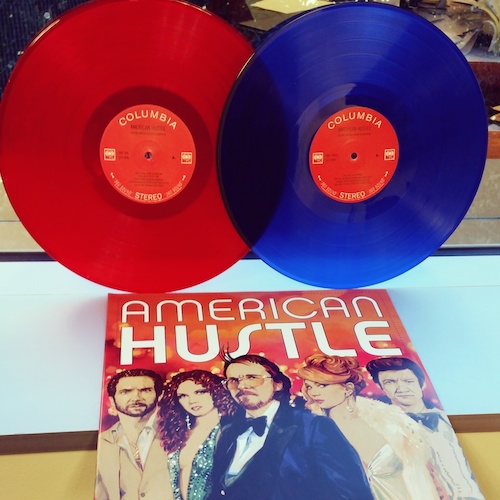 A brand new expanded vinyl edition of the American Hustle soundtrack is hitting select independent record stores across the country this week. Many record colecting nerds are already familiar with Record Store Day (RSD), an event that happens every April featuring exclusive pressings to encourage people to support indie retailers. With vinyl sales surging globally, this program has extended to Black Friday each year, when a new batch of limited-edition releases hit stores. These aren't things that you'll find at national retailers, but rather indie stores like Austin's Waterloo Records and End of an Ear.
While RSD titles are not guaranteed to be in stock at every store across the country, I think it's a safe bet that you'll be able to find this new American Hustle vinyl release at both stores if you're an early shopper on Friday. The soundtrack was first released on CD and digitally last December, but this expanded version makes it available on vinyl for the first time and features six songs not included on the original release. Packaged in a gatefold sleeve featuring a brand new ilustration of the film's poster artwork illustrated by Michael Gillette, the records are pressed on 150-gram red and blue vinyl with "2-eye" stereo labels that replicate 1960s pressings from Columbia Records.
American Hustle (Don's review) received 10 Academy Award nominations last year. Music supervisor Susan Jacobs worked with director David O. Russell to expertly weave music, mostly from the 70s, into the film until it almost is another supporting character. Russell personally supervised the packaging for this new pressing, supplying unique artwork from the movie for the inner gatefold and individual record sleeves. The entire collection has been optimized for vinyl with proper mastering by Patricia Sullivan at Bernie Grundman's facility in Hollywood.
The audio quality is outstanding across the board, as to be expected from a Sony Legacy release. A few tracks sound more dynamic and as crisp than I've ever heard them, perfectly illustrating the right way to do a compilation. While the soundtrack has been resequenced to include additional songs, it still begins the only way it could, with Duke Ellington's "Jeep's Blues." As discussed in the film by Irving (Christian Bale) and Sydney (Amy Adams) at a party, the 1956 recording is one of the finest album openers of all time and it gets Side 1 off to a perfect start. One of the vinyl bonus tracks is featured next, Steely Dan's 1972 cut "Dirty Work."
The other bonus tracks on this vinyl edition come from The Temptations ("Papa Was A Rollin' Stone"), Todd Rundgren ("I Saw The Light"), David Bowie ("The Jean Genie"), Frank Sinatra ("The Coffee Song [They've Got An Awful Lot Of Coffee In Brazil]") and Ella Fitzgerald ("It's De-Lovely"). The soundtrack also includes a previously unreleased song from Jeff Lynne called "Stream Of Stars" and a track from Lynne's Electric Light Orchestra called "Long Black Road," only ever released in Japan until now.
Other memorable sequences from the film, like Jennifer Lawrence cleaning the house to Wings' "Live and Let Die" and the Arabic cover of Jefferson Airplane's "White Rabbit," are represented here. This limited edition 2LP pressing is likely to sell out on Friday, so if you're a fan of the film this is a release you won't want to miss. You can check out the full listing of Black Friday 2014 special releases here.
Side One (Red Vinyl)
1. Jeep's Blues - Duke Ellington
2. Dirty Work - Steely Dan *
3. A Horse With No Name - America
4. 10538 Overture - Electric Light Orchestra
5. I've Got Your Number - Jack Jones
Side Two (Red Vinyl)
1. White Rabbit - Mayssa Karaa
2. I Feel Love - Donna Summer
3. Don't Leave Me This Way - Harold Melvin & The Blue Notes
4. Delilah - Tom Jones
Side Three (Blue Vinyl)
1. Live And Let Die - Wings
2. How Can You Mend A Broken Heart - Bee Gees
3. Goodbye Yellow Brick Road - Elton John
4. Papa Was A Rollin' Stone - The Temptations *
Side Four (Blue Vinyl)
1. I Saw The Light - Todd Rundgren *
2. Long Black Road - Electric Light Orchestra
3. The Jean Genie - David Bowie *
4. Stream Of Stars - Jeff Lynne
5. The Coffee Song (They've Got An Awful Lot Of Coffee In Brazil) - Frank Sinatra *
6. It's De-Lovely - Ella Fitzgerald *
7. Irving Montage - Danny Elfman (score)
* Songs not on original CD/digital release