HRC Brings Molly Haskell to Austin Tomorrow to Talk 'GWTW'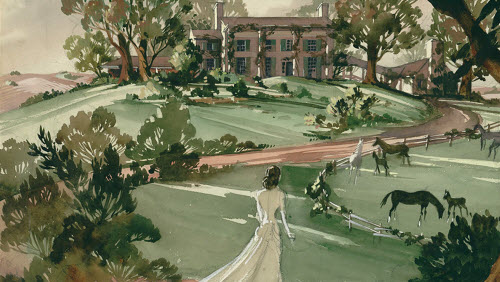 Have you been to the "The Making of Gone with the Wind" exhibit at the Harry Ransom Center yet? Whatever your opinion of the film, it is truly amazing. I've been once and I feel like I caught about 60 percent of it before my feet gave out -- I need to go back again. The exhibit runs through Jan. 4, and admission is free (although parking near UT probably won't be), so take a long lunch break and check it out. Your mom's visiting for Christmas vacation? Bring her there for a treat.
Tomorrow night (Wednesday, Nov. 19) at 7 pm, head over to HRC to hear author and film critic Molly Haskell discuss her book Frankly, My Dear: Gone with the Wind Revisited. It focuses on both the novel and the movie. Haskell is probably best known for her book on women in film, From Reverence to Rape. I've heard her speak before and can't recommend it enough. If you can't make it to the HRC, a live webcast will be available.
I've read Frankly, My Dear and enjoyed it very much -- in fact, I bought the book at HRC after visiting the exhibit. I've read maybe a half-dozen books over the years about Gone with the Wind, because back in high school I was a huge raving fan of the novel. I'm less so now -- over the years the racism has bugged me more and more, and I've always felt Scarlett is essentially an overgrown teenager. But somewhere around here I believe I even have a book of producer David O. Selznick's infamous memos (he would have loooved social media and email), many of which concerned his great 1939 epic film. So I went into the exhibit, and Haskell's book, with plenty of background information.
Even though I knew a lot about the movie Gone with the Wind, the book Frankly, My Dear had a lot of information I hadn't heard. I've never read a good biography of Margaret Mitchell (who wrote the novel), and Haskell does an excellent job of telling her story in a fairly straightforward manner, factual and not anecdotal, but quite engaging. I've always heard Mitchell as a journalist, but that was a rather small part of her life. The book focuses on Mitchell, Selznick, and actress Vivian Leigh, and how the book and movie affected their lives.
Speaking of Leigh, one of the most impressive things about the exhibit is seeing Scarlett's costumes up close and personal. I had seen photos before and I've seen costumes from other period films but what struck me was how much those clothes must weigh. Some are velvet, they all have hoop skirts and petticoats and the like, and you have to remember that Leigh was often working 12-hour days in those clothes. Air conditioning was not around in 1939. See, now you're impressed too.
Another gorgeous surprise was the collection of concept art paintings for the film (pictured at top). These looked like art you might see hanging over a fireplace, with lovely details ... just to get an idea of what the movie sets/sequences might look like.
Curator Steve Wilson told me that the exhibit covered only part of HRC's collection related to Gone with the Wind. He said a lot of tough decisions were involved in picking out the most relevant and interesting material. And I believe he did a terrific job -- you get a whole narrative from the movie-rights sale to the Atlanta premiere.
If you really can't visit the exhibit, you can always view the HRC's web exhibition, with images related to the movie's production. Better still, you can buy the exhibition catalog, The Making of Gone with the Wind, a gorgeous coffee-table book Wilson put together with photos of more than 600 items related to the movie. I bought that book along with Haskell's and have not even started to delve into all the goodies.
I also recommend the Gone with the Wind-themed entries on the HRC blog, which are more in-depth than the exhibit and quite fascinating. For example, you can read an alternate, happy ending proposed for the movie!
And finally, after you go to the exhibit, you'll probably want to watch Gone with the Wind again, unless you caught it at the Paramount's annual screening. Earlier this fall, Warner released a 75th anniversary edition of Gone with the Wind on Blu-ray. Over at Badass Digest, Meredith Borders reviewed this very fancy boxed set if you want more details.