Our Holiday Favorites 2014: 'The Holiday' Cheers Up Elizabeth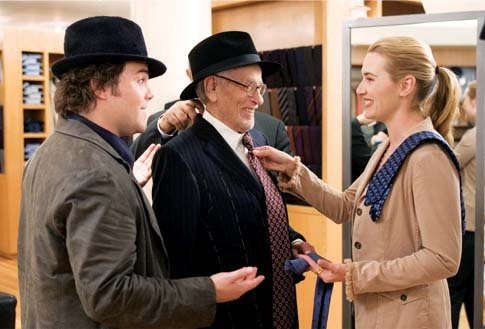 Welcome back to Slackerwood's annual Holiday Favorites series. Over the next month or so, we'll talk about our favorite movies to watch in the winter holiday season, and ask various friends in the film community to share their favorites with us too.
When actor Eli Wallach died earlier this year, I immediately thought of his work in Nancy Meyers' The Holiday. Certainly he appeared in more notable pictures, but The Holiday is near and dear to my heart (as is How to Steal a Million, in which he also appears). A romantic comedy only vaguely related to end-of-the-year festivities, the "Holiday" here represents the short breaks Brit Iris (Kate Winslet) and American Amanda (Cameron Diaz) take from their regular schedules as they trade homes for a couple weeks.
Wallach plays an endearing remnant from Classic Hollywood, the kind of old codger who will namedrop Cary Grant at the same time as he describes what a "meet cute" is. I'm not one to gloss over the deficiencies of the studio system, but as his character of Arthur serves as a way for Iris to finally get some "gumption," I can appreciate his role here. Jack Black and Jude Law (in glasses!) are the love interests for our two leading ladies.
The film requires a large suspension of disbelief: that a newspaper features writer could afford a last-minute flight to the States, that an American woman alone in a quaint countryside cottage would open the door to a drunk handsome Jude Law at 2 am, that 4-to-8-year-old children would have their own phones in order for their names to show up on dad's caller ID -- you get the idea.
Even with these many far-fetched notions, and the overuse of the word "complicated" in Diaz/Law dialogue, I adore the movie in spite of itself. I tend to watch this around Christmastime, but as it serves as a great pick-me-up, I can view The Holiday any time of year (even multiple times a year, when necessary).
Where to watch: The Holiday is available as VOD on Amazon, or to rent on DVD from Vulcan Video or Netflix. Or you can try to catch it on Lifetime when they show it Thanksgiving night.