Review: Rosewater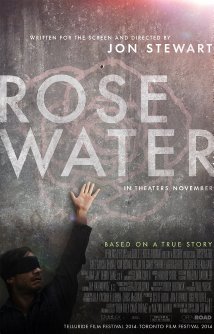 When you browse to the CNN website, you can choose between US and international editions of the site. While both feature current news items, one edition is focused more heavily on stories about celebrity gossip, xenophobic fears and sports. The other focuses on stories about foreign politics, military activities and human-rights figures. I probably don't have to tell you which is which. The fact is, a majority of Americams don't care about what is happening in other countries. If they did, those stories would be the ones featured in the US edition of CNN, and you would already know the story of Maziar Bahari, the Iranian Canadian journalist imprisoned by the Iranian government for 118 days in 2009 accused of being a spy.
If you have the slightest interest about happenings outside the US, especially in the Middle East -- an area typically ignored and/or misrepresented by most public education here -- you should consider Rosewater essential viewing. Jon Stewart, comedian, actor and host of the perennially popular The Daily Show, has brought Bahari's tale to the big screen after numerous appearances on his program, one of which figured heavily in his incarceration; the Islamic Republic used as evidence against him an appearance in which Jason Jones appeared dressed as a "spy" for comedic effect.
The import of this movie lies in its ability to help bridge the gaps in understanding that result from the holes in our knowledge and direct experience with Iranian culture. Stewart is new to filmmaking, and at times the feature looks more like a TV program than a film. Much of this is owing to the use of footage from various sources, news clips, even footage shot by friends of Bahari in Iran itself. Stewart edits it into a cohesive experience, but the mood shifts irregularly -- it shifts from documentary to drama and even to comedy. Throughout, however, runs a clear message: Governments control their citizens through information, and with the free flow of communication people can overcome an oppressive regime.
Rosewater's first act puts into perspective some things we take for granted. We have unlimited access to information, news, and culture unfettered by government interference, if we only seek it out. Gael Garcia Bernal as Bahari encounters an educated group of youths operating a "satellite university" where through illegal hidden satellite dishes, they access the world outside Iran's state-controlled media. As Bahari documents the 2009 election, voters swarm the polls, knowing little about the opposition candidate they support ... other than they'll vote for anyone who isn't Ahmadinejad. Before the polls are even closed, state-run media announce an overwhelming majority of the vote for Ahmadinejad in the rigged election. Bahari's mother Moloojoon (Shohreh Aghdashloo) represents the typical voter, unhappy with the Islamic regime but confused by the rampant propaganda on her TV. Meanwhile, rioting breaks out in the streets, and Bahari captures the violence on camera as guards begin firing on civilians, a video that results in his arrest.
Only after we began to see Russians as people like ourselves did the Berlin wall come down. Likewise, peace and understanding of the Iranian people can only happen when we see them as fellow humans and not terrorist caricatures. Stewart has taken an enormous step in that direction, hoping that we'll follow. Rosewater is the kind of film every American should see but unfortunately too few will. Movies which highlight the similarities between US and Iranian cultures rather than their differences are few and far between. Rosewater joins Persepolis in the ranks of recent films that provide perspective on modern Iranian culture and its relationship to the US. Alternating among triumphant, chilling and absurd, Jon Stewart's directing debut is a must-see this weekend.
For additional perspective, you can check out the officially sanctioned Iranian TV report on Rosewater, embedded below.