AFF Review: 61 Bullets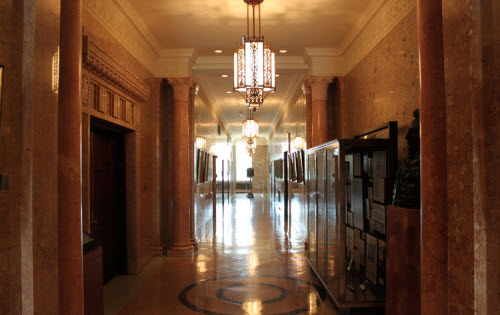 I grew up in the greater New Orleans area, I have minors in political science and history from LSU ... I even worked in the Louisiana State Capitol for awhile. But it wasn't until I saw 61 Bullets at Austin Film Festival that I heard a viable alternative theory about Huey Long's death. (Sure, I heard speculation, but I gave it as much credence as alternate Kennedy assassination theories.) 61 Bullets not only presents the case for this theory compellingly, but it brings in the personal -- the family of Dr. Carl Weiss, accused of assassinating then-Senator Long.
For those of you who haven't had to learn this for a pop quiz, who haven't poked their fingers in the bulletholes in the State Capitol wall, here's the background: In 1935, former La. Gov. Huey Long was shot in the State Capitol. The story we learned is that Weiss leaped out from behind a pillar and started shooting. Long's bodyguards peppered Weiss's body with 61 bullets (thus the documentary's title), and rushed Long to the hospital, but he died several days later. The rationale generally provided for why Weiss did it is that he was mentally unhinged, and perhaps had a beef with Long over Weiss's father-in-law possibly losing a judgeship.
However, many of Weiss's relatives have never quite accepted this theory, it seems. They believe the political ambitions of the Long family (which indeed are legendary) are a big reason behind the concealment of the facts. For example, a federal investigation of the incident never took place -- everything was handled locally, information is missing, etc. Long's body is buried under so much concrete in the Capitol that an autopsy would be impossible, and his surviving descendants/relatives still believe Weiss assassinated him.
The focus of 61 Bullets isn't to present you with some doubt about the alleged assassination, however. Austin filmmakers David Modigliani and Louisiana Kreutz provide a touching, intimate look at the ways in which Weiss's relatives have dealt with the aftermath -- and how that changes even over the course of the film being made. This is possible in part because producer Yvonne Boudreaux's grandmother was Weiss's widow's sister. Carl Weiss, Jr. was an infant when his father died, and his mother eventually moved with him to New York, never discussing the event. (The way he found out is heartbreaking.)
Interviews with Carl Weiss, Jr. and Ida Boudreaux (the grandmother) are the heart of this movie. Weiss in particular is fascinating to watch, as his willingness to discuss the situation changes over the years. Another relative has written a book about his theory regarding the tragic event. In addition, the filmmakers interview one of Long's descendants, explaining his point of view and Don Moreau, the La. State Police lieutenant in charge of re-investigating Long's death in 1992.
61 Bullets does an excellent job of examining the personal effects caused by a political event. The people interviewed in this movie are far more fascinating than the theories or any sense of doubt. And as a bonus, South Louisianians love to argue about anything political, so the film will give them an excellent chance to jaw about the Long family for hours afterward. If you get an opportunity to see it, bring your favorite friend from New Orleans or Baton Rouge, who will probably tell you a secret tale about the Longs that his/her grammaw used to tell that she heard from her doctor. And anyone who went on the La. State Capitol tour as a child will be as floored as I am by the postscript about the bulletholes on the Capitol wall.
The next scheduled screening for 61 Bullets is on Nov. 30, 2014 in Baton Rouge at the Manship Theatre (one week after that theater screens The Great Invisible -- it's an excellent month for doc-watching in Baton Rouge).
Austin connections: Most of the 61 Bullets filmmakers/crew live in Austin.