Review: Force Majeure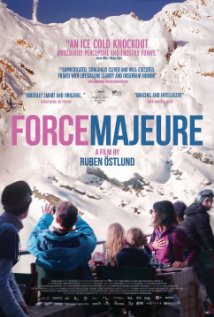 When faced with starvation, some animals eat their young. When facing death, the wisdom goes, nature rewards parents who protect themselves at the expense of their children as, after all, they can always have more children if they survive. There is also a theory that in times of great stress and danger, instinct can take over our actions and override the conscious brain. This week's release at the Arbor, Force Majeure, explores both of these.
Written and directed by Ruben Östlund, the Swedish submission for Best Foreign Language Film in the next Academy Awards won a jury prize at Cannes and audience praise at Fantastic Fest. Peppered with humor at times so subtle I felt it got lost within the drama, Force Majeure reminded me in some way of Escape From Tomorrow. Both films find dark humor with a family of four on holiday when things begin to go nightmarishly wrong.
In this case, that scenario takes the form of a controlled avalanche that proves a little more energetic than expected, threatening the lives of Tomas (Johannes Kuhnke), Ebba (Lisa Loven Kongsli) and their children Vera and Harry (siblings Clara and Vincent Wettergren) as they lunch during their ski trip in the French Alps.
Instead of protecting his family or helping get his children out of the situation, Tomas flees the actually harmless snowdrift. Ebba, shocked by the revelation her husband has failed in a moment of weakness to live up to his role as protector, begins to question their marriage. The children are helpless in the face of the very real possibility that their parents may break up the family as their mother obsesses over an action their father patently denies.
Fredrik Wenzel's cinematography is a major force driving the story. Gorgeous, expansive outdoor vistas of mountains and snow create a sense of freedom while the family's hotel room, where much of the action takes place, feels cloying and creates a sense of urgent claustrophobia heightening the tension between the players.
I also greatly enjoyed the minimalism of the score, which consisted ironically almost if not entirely of Vivaldi's 'Summer' performed on accordion. I didn't "get" the humor in Force Majeure quite as much as others, but I still enjoyed the movie, and the ending provoked some thought to satisfy myself that I understood the point. Ostlund rather brilliantly stretches a simple idea in a simple setting to a feature-length film working on several different levels.