Review: Big Hero 6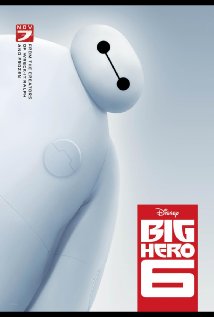 The Walt Disney Animation Studios team continues to knock hits out of the park, following up Wreck-It Ralph and Frozen with this weekend's adaptation of the Marvel comic Big Hero 6. Directed by Don Hall and Chris Williams (Bolt), Big Hero 6 is perhaps a first in presenting modern Asian-American leads as positive role models in a major Hollywood studio production for children.
Young Hiro Hamada (Ryan Potter) is something of a robotics savant, hustling cash in the underground world of robot fighting a la Real Steel. He's encouraged by older brother Tadashi (Daniel Henney) to apply himself and join him in the advanced robotics program led by Roberto Callaghan (James Cromwell). There he meets fellow students Go Go (Jamie Chung), Wasabi (Damon Wayans Jr), Honey Lemon (Genesis Rodriguez), and Fred (TJ Miller).
An unexpected disaster leaves Hiro reeling, and with the help of his friends and Baymax (Scott Adsit), his brother's helpful medical robot, Hiro transforms the group into superheroes in order to fight the evil threatening their city of San Fransokyo.
The screenplay by Jordan Roberts, Robert L Baird and Daniel Gerson is fun for kids, presenting science as a cool way to create fun things. It also treads into some darker subject matter, including how to responsibly deal with grief. Nevertheless, Big Hero 6 is clever and funny with entertaining characters (though fans of the comic will note some changes due to the rights to two characters being owned by 20th Century Fox).
Each character in Big Hero 6 has unique and useful powers fitting their personalities and skills, and everyone is sure to choose a favorite. (Mine was TJ Miller-voiced Fred, who loves to pretend he is a kaiju and gets many of the funniest lines as they are improvised by the actor-comedian.) "Come early, stay late," is the rule for this so that you won't miss the absolutely brilliant short Feast playing along with it or the hilarious post-credits stinger.