AFF Review: Wild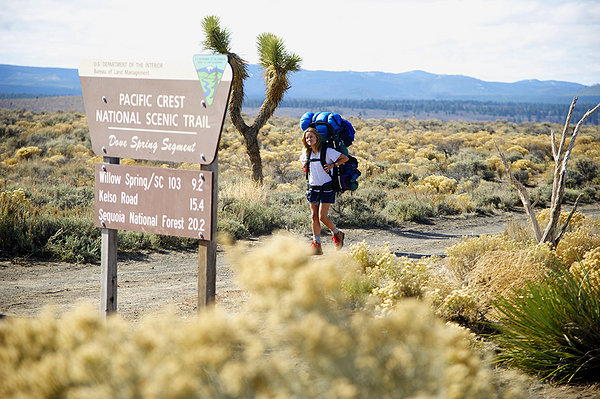 Cheryl Strayed, author and former Dear Sugar advice-giver, wrote a bestseller based on journal entries she kept as she hiked the Pacific Crest Trail as a young adult in the '90s. Her Wild: From Lost to Found on the Pacific Crest Trail is deeply felt, harsh in its openness about her past drug use and infidelities, and a loving ode to her mother. When I heard Reese Witherspoon would play Strayed in the cinematic adaptation, I was hesitant to get too excited. Then I saw the trailer and started counting the days til the movie's release. The screening at Austin Film Festival was packed, so I wasn't alone in my eagerness to see Wild.
Author/screenwriter Nick Hornby (About a Boy, An Education) adapted Strayed's original work; in the hands of director Jean-Marc Valee (Dallas Buyers Club, The Young Victoria), the author's story is told in a type of stream of consciousness. After a cold open with Witherspoon as Cheryl frustratedly throwing a boot off a mountain, we are shown a truck (driven by the real Strayed) dropping our main character off at a less-than-reputable hotel. Before she starts the journey and throughout her long hike -- which seems as much a penance as a form of self-discovery -- quick edits take the viewer through flashes of her memory. In this non-linear manner, scenes from her childhood, college experience, and young, troubled marriage are interspersed in the timeline of her months-long trek.
Witherspoon plays Cheryl from high-school age on, giving an emotionally brutal performance. Laura Dern appears in flashbacks as the author's beloved mother, an optimist despite the challenges of her life. Besides the family figures in flashbacks -- younger brother Lief (Keene McRae, CBGB), ex-husband Paul (Thomas Sadoski, The Newsroom) and best friend Aimee (Gaby Hoffmann, Obvious Child, Amazon's Transparent) -- most of the other characters in Wild are people she meets on the trail. A few of the cameos are distracting: that guy who guest stars on every TV drama (Michiel Huisman, Treme, Nashville, Game of Thrones) appears as a love interest, the singer from Everclear shows up as a tattoo artist and Bobby Cobb from Cougar Town (actual name: Brian Van Holt) plays a scruffy park ranger.
Cheryl is on her own for large segments of Wild, and the soundscape of the film perfectly matches her solitude. There are the obvious sounds of nature. Chords from "El Condor Pasa" recur, just as a song stuck in your head constantly repeats. She talks to herself and hums along with tunes in her head. The soundtrack is heavy on songs from the '70s, accompanying her memories or current actions.
How pleasing it is to see a mainstream, openly feminist film in which a woman can be imperfect, yet so very real, and create her own version of a happy ending. With evocative imagery and a no-frills performance from Witherspoon, Wild is one of the best films I've seen this year.
Wild has distribution from Fox Searchlight and will open in limited release on Dec. 5. No word yet on an Austin release date.