AFF Review: One Eyed Girl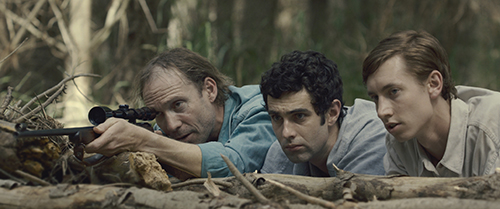 Writer and director Nick Matthews made his feature debut at this year's Austin Film Festival with One Eyed Girl, a riveting psychological thriller that takes place in South Australia but could just as easily occur anywhere. Co-written by co-star Craig Behenna (The Babadook), this film -- which just won the AFF 2014 jury prize in the "Dark Matters" category -- slowly reveals the layers of pain and guilt experienced by a psychiatrist and the unexpected rocky path to redemption and salvation.
Travis (Mark Leonard Winter) is a thirtysomething psychiatrist severely damaged by the death of former patient Rachel (Katy Cheel). Through a series of flashbacks, we learn that Travis' relationship with Rachel extended beyond and was impacted by her mental health. Travis' inability to connect to his patients and Rachel is compounded by the desensitization to the violence and corruption of the modern world, as well as a refusal to accept his own identity. He is emotionally lost and on the brink of a nervous breakdown when he meets the mysterious teenager Grace (Tilda Cobham-Hervey), who's handing out brochures about a charismatic leader, Father Jay (Steve Le Marquand).
After rescuing Travis from near death by a drug overdose, Father Jay and his right hand man Tom (Behenna) take him to the lovely yet isolated commune in the hills of Adelaide. It is quickly apparent that Father Jay is a cult leader with a strong hold over his followers, yet Travis is finally able to shed his repressed thoughts about himself and connect to and begin healing his own pain. It is only after a chance encounter in the woods that the true nature of Father Jay's control is revealed, and Travis must save himself as well as Grace before it is too late.
The casting and performances in One Eyed Girl are all well-matched. Winter meets the challenge of displaying the emotional gauntlet that Travis runs through during his transformation. Le Marquand exudes the laid-back yet controlled charisma of a cult leader quite well, and Behenna is quite convincing as the empathic Tom. Cobham-Hervey is interesting as Grace, but not nearly so well developed as Cheel's performance as the tormented Rachel. I was left engaged and wanting to see more of Rachel's character development than Grace's.
One Eyed Girl is a complex story that explores several themes: the blurred line between healer and patient, the allure and exploitativeness of cults, and the fear of one's own identity as well as the world around us. The editing by David Ngo strikes a balance between the three acts that spotlight Travis' relationships -- with Rachel, Jay, Grace and ultimately himself -- all while increasing the tension as it builds towards a frightening climax.
The cinematography and production design effectively create the dark and often brooding tone of this thriller, whether during a harrowing final scene on a subway train or beside a glowing bonfire at night. The score nicely complements the artistic design of this film as well.
I highly recommend seeing One Eyed Girl, which screens tonight at Tuesday, October 28 at 9:30 pm at Galaxy Highland 10. Be advised that AFF also has slots open on Thursday, October 30 for encore screenings to be announced. We will update here if another screening of One Eyed Girl is added.
Watch the trailer for One Eyed Girl below: