AFF 2014 Dispatch: Advice from Screenwriters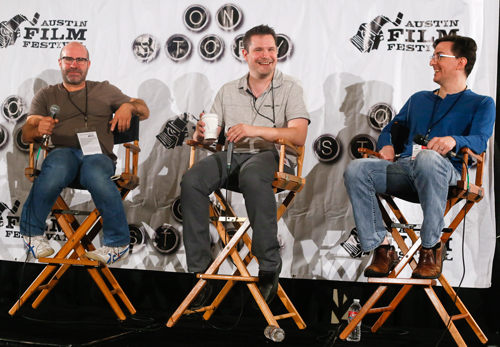 I enjoyed several of this year's panels at Austin Film Festival, with my only complaint being how to choose between concurrent sessions. The quality and diversity of conversations and panels were superb.
My highlight was "Science Fiction versus Science Fact" on Friday, when Scott Z. Burns (Side Effects, Contagion), Eric Heisserer (Hours, The Thing) and Ashley Miller (Thor, X-Men: First Class) discussed the fictional future we see onscreen and how they've addressed unknown possibilities in their own screenwriting.
Burns spoke about preparing for Contagion by approaching it as if science fiction movie by asking experts, "Tell me what's possible? What hasn't happened yet?" He emphasized the importance of research first -- "it's a phenomenal procrastination tool, and you can get amazing gems for narrative" -- citing cell phone jammers as an example of how authorities plan to control the flow of information during crisis, which makes for a good dramatic point.
Miller talked about the challenges of writing X-Men: First Class, and the importance of the limits of power even in superheroes. "What happens next? How do you control that power?" and how the application of power can fundamentally change a character's life. He cited as an example the first time Charles Xavier uses his mutant power and the effects on his character.
Heisserer spoke about the importance of wish fulfillment, and how it cost him a writing job when he wrote about a character who only needed a certain amount of money. His character would use his power, but only have a goal of winning "just what he needed, no more than that" -- which was not what the execs had in mind for the story.
The trio then discussed how for decades, science fiction was a "ghetto," and credited 2001: A Space Odyssey as being a game changer at a time when a technology gap existed. Film no longer has to "push out" to decades ahead, but rather catch up to what is going on around us now and is around the corner, as in Her.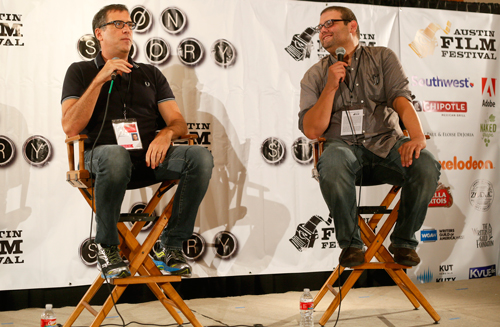 I also enjoyed the conversation between Alvaro Rodriguez and screenwriter Richard LaGravenese (The Fisher King, Behind the Candelabra) whose film The Last 5 Years debuted at AFF this week. LaGravenese was quite gracious as he mentioned Tennessee Williams' statement that it is "every writer's responsibility to write what they know," and the importance of finding one own's voice.
When asked by Rodriguez, "How did you lose your voice?" LaGravenese responded, "Success." He elaborated that perhaps he was guilty of not having faith in himself to trust his own voice. He further stated that some writer are better as adapters than original writers. "Don't take for granted any wave you go through."
LaGravenese described Terry Gilliam (Brazil), who he worked with on The Fisher King, as a "visionary and inventive director," blaming Gilliam's bad track record on being an artist. "The system doesn't support visionary," and Gilliam "doesn't spoonfeed" his stories.
Both of these conference sessions were recorded as part of Austin Film Festival's On Story series, so check their website regularly for new content.
[Photo credits: "Science Fiction vs Science Fact Panel," "A Conversation with Richard LaGravenese" by Jack Plunkett, courtesy of Austin Film Festival]