AFF Review: The Suicide Theory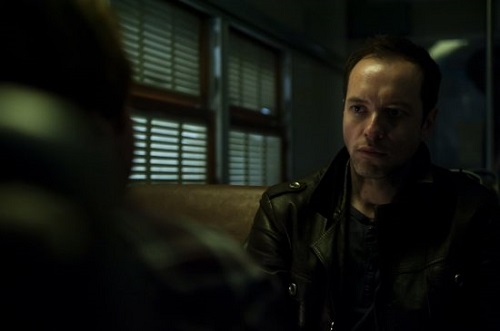 To what length would a desperate and grief-stricken person go to end their life? Several failed attempts at suicide drive Percival (Leon Cain) to hire a professional hitman to kill him in The Suicide Theory, an Australian thriller written by Michael Kospiah and directed by Dru Brown.
Steven Ray (Steve Mouzakis) is dealing with his own personal tragedy -- his pregnant wife Annie (Zoe de Plevitz) was killed in a hit-and-run accident while crossing the street. He's developed such a phobia that he is stricken with seizures any time he attempts to step off a street curb, to the extent of taking cabs just to cross the block. The two men meet when Percival literally jumps from a building and lands on a cab that Steven is in, casing his next victim. What appears to be a chance meeting to Steven is fate to Percival, who appears to be delusional. However, as Steven repeatedly attempts yet fails to kill Percival, he begins to believe and even identify with Percival's desperation.
As the story of The Suicide Theory further unfolds, we learn that the tragic bond which brings these two unlikely friends together is much darker and complex than can be imagined. As the pieces of the puzzle are revealed and put in place, I found myself on the edge of my seat and engrossed in the revelations. Just enough comedic writing is woven in to help alleviate nervous tension from the seriousness of this film's main plot.
The Suicide Theory defies being pigeonholed into a particular genre -- part supernatural thriller, part dark comedy, part romantic tragedy with a bit of bromance sprinkled in. This entertaining movie far exceeded my expectations, with the pacing bolstered by Brown's direction and Ahmad Halimi's editing. The art direction and cinematography superbly captures the sad and anxiety-ridden moods of its main characters through dark tones and almost claustrophobic tight shots.
The only major flaw that I found within The Suicide Theory is in the special effects -- specifically, as the story progresses and Percival survives additional injuries, his fake scars are mildly distracting during close shots. During the Q&A after the AFF screening I attended, Brown brought up this issue and his concerns regarding the impact to continuity, revealing that the production team had consecutively hired and fired multiple makeup artists.
The Suicide Theory is a compelling film whose strengths far outweigh its cosmetic flaws, with strong performances and well-developed characters for its lead actors. I highly recommend watching this film when it becomes available (it currently has no distribution).
Watch the trailer for The Suicide Theory below: