AFF Review: 21 Years: Richard Linklater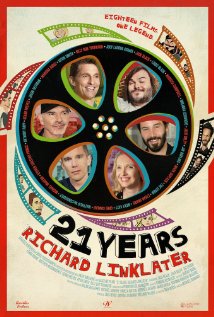 21 Years: Richard Linklater, which had its world premiere at Austin Film Festival on Oct. 24, primarily consists of two types of footage: interviews with charismatic actors who have worked with Richard Linklater, and scenes from the director's films up to and including Before Midnight (Boyhood is mentioned in passing). The result is often enjoyable but limited in scope, and ultimately the film comes off as more of a puff piece than an insightful documentary.
The question underlying 21 Years seems to be, "Why isn't Linklater better known and and as universally well loved as he is in Austin?" It's a good one to ask, but directors Michael Dunaway and Tara Wood don't so much answer that question as compile a series of examples that he is truly respected and admired by actors who have worked with him.
Repeat collaborators like Ethan Hawke, Julie Delpy, Jack Black and Matthew McConaughey seem to have nothing but nice things to say about their pal Rick, and the enthusiasm and awe they exhibit is infectiously positive. From specific stories about filming to broad appreciation of his zen-like demeanor, the talking heads enlisted for this project are clearly happy to sing the praises of Richard Linklater.
Fans of the director and his movies will be helpless to resist the charms of attractive actors telling fun stories, and the sense of an underdog receiving his due makes it easy to be swept along with the pleasant nostalgia of watching clips from Slacker and Dazed and Confused, among other films. The fact that the discussion never goes deeper than surface-level adoration is a little disappointing, though; thoughts from people who have worked extensively with Linklater behind the camera (editors, producers, cinematographers) are nowhere to be found.
Unless you're watching 21 Years as a complete newcomer to the director's work, you won't learn anything about him. Making the film even harder to take seriously are the animated segments accompanying the interviews. Playful and silly, these images cement the fact that this production is all about fun and only tangentially concerned with substance.
21 Years: Richard Linklater may sneak its way onto your good side by celebrating films you love, but it can't be called groundbreaking or illuminating. In one of the final scenes, Billy Bob Thornton (who worked with Linklater in Bad News Bears and seems pretty zen-like himself), says that Linklater doesn't need anyone to worry about him or make a documentary about him because "he's fine."
This seems absolutely true. Richard Linklater is fine, better than fine, even, and maybe in a few years someone will examine his work in a more serious light. Until then, turn off your brain and have fun with 21 Years.