AFF Review: Hardy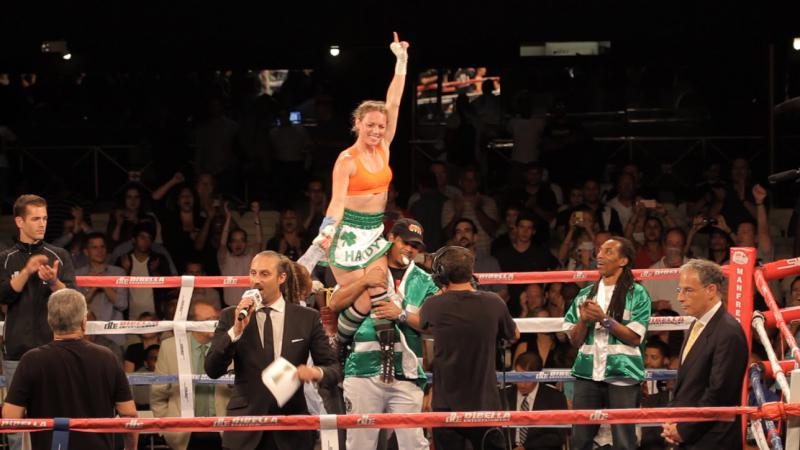 Boxer Heather "The Heat" Hardy lives with her parents, sister, nephew and her own young daughter in a working-class Brooklyn neighborhood. She trains with her trainer/boyfriend Devon at the famed Gleason's Gym and dreams of making a full-time career out of fighting and moving out of her current crowded living situation. In the documentary Hardy, from first-time filmmaker (and Austin native) Natasha Verma, the boxer asserts, "I don't wanna get paid like a female, I wanna get paid like a boxer."
The film shows Hardy's path toward signing with a big-time promoter and making more money. In 2012, boxing became the last sport at the Olympics to accept women, and Verma's film displays some aspects of the macho culture still involved in the sport. Posters plugging fights for the male athletes adorn the gym, while Heather is responsible for selling a certain portion of tickets to her bouts. As she waits impatiently before one of her fights, rapper 50 Cent comes into the dressing room full of mostly men and makes disgusting jokes about domestic violence and women who fight back.
Hardy claims that she doesn't fight "like a girl," and talks about beating up her opponents. Verma spent days and nights with her subject, following her training and relationship with her trainer (another female boxer interviewed for the film correctly calls coach/trainee affairs a "confusion of power"). Hardy's own confusion is visible in a later training scene, where she can't get a handle on what Devon is trying to teach her and the boxer admits to being foggy on the transition of their relationship in and out of the ring.
Hardy is a witty nailbiter of a film -- even the heavier moments can't stop the forward momentum of the boxer's journey. A certain choreography is a part of the fights included in the film. The documentary isn't without technical foibles: boom mics and cameras sneak into a couple scenes. However, these don't distract from the fierce character Verma brings to light in Hardy.
Hardy screens again today -- Oct. 29 -- at 4 pm at Alamo Drafthouse Village as part of Austin Film Festival.