AFF 2014: Friday Film and Panel Picks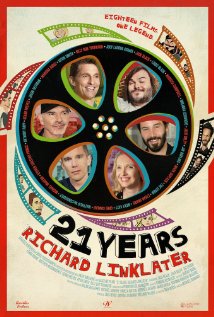 Friday is the first full day of the Austin Film Festival (bravo to you if you make it all the way from a 9 am panel to the last film of the night), and whether you plan to wing it or stick to a schedule, here are just a few of the many events worth considering.
Friday Panel Picks:
Short Films, Big Leaps: Story Development in Pixar Short Films -- Pixar panels tend to be pretty entertaining, and today's will be led by Mary Coleman, a Senior Development Executive at Pixar Animation Studios. Her job is a fascinating one, and she's here to share. (Friday, Oct. 24, 9 am - 10:15 am, Intercontinental Stephen F. Austin Assembly Room)
Deconstructing: No Country for Old Men -- Walk through this Coen brothers, Texas-filmed classic with Rachel Getting Married writer Jenny Lumet and Noah Hawley, creator and producer of the television show Fargo. Accompanying this panel will be Cormac McCarthy archival material presented by the Wittliff Collections on display in the Jim Hogg Parlor in the Driskill. (Friday, Oct. 24, 10:45 am - noon, The Driskill Hotel Maximilian Room) UPDATE: This panel has been rescheduled for Sunday, Oct. 26, 11:30 am - 12:45 pm and will be held in the Driskill Hotel Crystal Room.
Chicks with Bics -- Hollywood has a long way to go before it can be called female-friendly, and this conversation will check in with a few women working in the industry to find out about the particular challenges they face. The panel consists of writers Jenny Lumet, Tiffany Paulsen, (former Austinite) Pamela Ribon and Liz Tigelaar, who together have an incredible amount of television and film experience to draw from. (Friday, Oct. 24, 3:15 pm - 4:30 pm, St. David's Episcopal Church, Historic Sanctuary)
Friday Film Picks:
The Twilight Zone, Presented by Matthew Weiner -- Peek into the brain of the adored and awardwinning Mad Men creator when he screens and discusses two of his favorite Twilight Zone episodes: "It's a Good Life" and "A Stop at Willoughby." (Friday, Oct. 24, 1 pm - 3:15 pm, State Theatre)
21 Years: Richard Linklater -- Austin's own Richard Linklater is the subject of this documentary, which explores the first several years of the director's career through interviews with various actors and collaborators. The film is directed by Michael Dunaway and Tara Wood, who will be in attendance along with filmmaker/former Austinite Jay Duplass, who appears in the film. Expect good vibes and hometown pride to fill the Paramount tonight. (Friday, Oct. 24, 7 pm, Paramount Theatre)
Wildlike -- In this feature written and directed by Frank Hall Green, a troubled teenage girl and a grizzled backpacker become an unlikely pair of travelers through the Alaskan wilderness. Something about this one has "festival gem" written all over it. (Friday, Oct. 24, 9:15 pm, Rollins Theatre)
Muutoksii -- Several foreign films are included in the lineup this year, including this Finnish feature about two 12-year-old boys living in a Helsinki suburb. With a story driven by racial tension, friendship and mystery, this looks like a promising choice for fans of dramatic storytelling. (Friday, Oct. 24, 10:45 pm, Alamo Drafthouse Village)
Bonus Picks: Stop by the famous Film TX BBQ Supper for dinner and mingling (if you have a Producer's Badge), take a chance on a Mystery Screening at the Galaxy Highland at 8:45 pm, or be adventurous and go to one of the four shorts programs happening today; there's one at 2:30 pm, 5 pm, 7:30 pm and 10 pm.