AFF 2014: Vanessa Roth, 'The Texas Promise'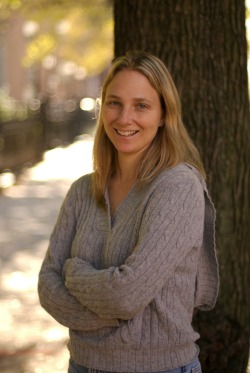 Award-winning director Vanessa Roth tends to look deeply into social justice issues in her documentaries -- the effectiveness of the foster care system in Aging Out, the repurcussions of that film in No Tomorrow, equal rights for a lesbian couple in Freeheld (Roth produced), and schools and education in American Teacher and The Third Monday in October. Her most recent film, The Texas Promise, hits close to home as it peers into the state budget cuts to education in Texas. This new documentary from Roth will debut at Austin Film Festival later this week.
Roth answered a few of my questions via email about her work.
Slackerwood: Why is education a recurring theme in your works?

Vanessa Roth: I have so much to say about this that I don't know where to begin... education as a theme is what all my work focuses on because it is the what holds the key to creating and determining a person's opportunities in the world. By looking at the system of education and the policies that shape that system, I think we are given an intimate view of our values as a society.
Our country is wrestling with equity, opportunity and the very basic question of what education is supposed to look like at this moment in history. This fascinates me and drives me to find stories about both the system and the lives of those inside it to try to separate rhetoric from real human experience and attitude.
What drew you to this story in Texas for The Texas Promise?

Roth: Equity and opportunity are always themes that I want to explore in my work and when Texas cut so much from its education budget that directly affected the students who needed the resources the most I felt that this story needed to be told.
Also, Texas holds such a mythical place in our country's imagination, as well as a literal stronghold on many policies that become nationally implemented, that I felt that by telling the story of education policy and the 5 million students in Texas we are really telling a story that is playing out across the country.
How long have you spent on this project?

Roth: We started filming in January of 2013 and finished the film last week!
Have ongoing events changed or challenged your vision for the final film?

Roth: I try very hard to be both on top of and aware of the ever-shifting cultural climate around whatever system or issue I am making a film about, but I also try not to let those shifts influence the core of human experience I have witnessed or the story I am telling. The Texas Promise was interesting for me because it is about the shifts in politics and follows the ongoing and lively debate about a topic that so many people feel very passionate about.
But most fundamental for me was, even within the ongoing debate, that I make a film that was honest, research-based and, most importantly, true to the experiences, viewpoints and feelings of the people who invited us into their lives to tell their story. My hope is that this snapshot of Texas and Texans in this moment in history drives debate and discussion and challenges ongoing events, because at its core the film is about equity and opportunity -- which I think need to be the first and most essential questions we look at when we talk about education.
Are there any Austin spots you're eager to visit during your time in town (besides venues related to AFF)?

Roth: I always like being to led to off-the-beaten-track places to eat Mexican food, which I'm sure we will do many times while in town. And this year my family and crew rented a house for the time we are there and so I am excited to spend some time enjoying the peace of the house. Mostly, I am excited to have Austin as the backdrop for spending some time in the company of my new Texas friends from the film who are coming to the premiere!
The Texas Promise will premiere at AFF on Sat, Oct. 25 at 7 pm at the Texas History Museum IMAX Theatre and plays again on Tues, Oct. 28 at 6:30 pm at the Rollins Theatre. Roth will be in attendance. [Official film website]