AFF 2014: Meet the 'Crazy Carl and His Man-Boobs' Filmmakers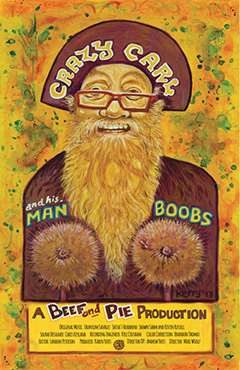 "Keep Austin Weird" isn't just a catch phrase created by some offbeat tourist marketing campaign, but rather a mantra that emulates the quickly diminishing quirkiness that drew me to Austin from the big city of Houston, Texas in 1993. The cast of characters often encountered in the local scene, whether on the Drag or downtown, contributed to the charm and allure of the Capital City.
Any given day or night you could walk down Sixth Street and see street musicians and vendors hawking their talents or wares, including Crazy Carl Hickerson -- is best known for selling and spinning flowers. Crazy Carl's penchant for flashing his man boobs and dancing outside of Esther's Follies has long been a source of amusement -- and sometimes horror -- for unsuspecting visitors to the intersection of Sixth and Red River.
Beef and Pie Productions filmmakers including director Mike Woolf, producer Karen Yates, and director of photography Andrew Yates have captured the public and personal story of Crazy Carl in their latest documentary Crazy Carl and His Man-Boobs, which premieres at this year's Austin Film Festival. Woolf and Andrew Yates as well as editor Landon Peterson answered questions about the film via email recently, and here's what they had to say:
Slackerwood: Why Carl?


Andrew Yates: He is my neighbor. And he has boobs. Man-boobs.


Landon Peterson: Crazy Carl is Yates and Karen's (our co-director and producer) neighbor in an old neighborhood in central Austin. So they would see this aged hippie doing very noticeable things like checking the mail in his underwear and robe with his boob jars bulging underneath.
Mike Woolf: Yates started this whole film because he saw (partially naked) Carl taking care of his wife Charlotte Ferris who is a polio survivor. Yates said there is a great love story going on over there. I thought he was just enamored with Carl's man-boobs.
Peterson: But as we came to find out, Carl has some very deep roots in the Old Austin that most people don't know much about, unless they were here in the 1960s-80s (or may have forgotten even if they were.) So, we realized more and more that this was a wonderful opportunity to tell the story of our unique town in a fun way.
Woolf: Carl was a flower salesman, a protester, a nude model, a Salvation Sandwich seller and then he started running for city council. Oh, and he's been spinning a flower in front of Esther's Follies for 35 years. We realized that his perennial campaigns affected our city's political landscape in a serious way. He inspired Max Nofziger, who became a council member and a whole host of wackadoos like Jennifer Gale and Leslie who would run for Austin office. We realized we could really tell the story of how Austin became Austin just by telling the story of Crazy Carl Hickerson.
What other Austin characters did you encounter while capturing Carl's story?


Peterson: We started with Carl and Charlotte Ferris, his partner of 20 plus years, though they go a lot further back. Charlotte has spent most of her adult life in a wheelchair as a result of polio and Carl has helped care for her through the years. However, as we discovered, she has taken as much care of him in many ways. Her stories offer some of the best insight into the character of Carl. She encouraged us to dig a lot deeper.


Ultimately, we found a web of connections among so many of the characters who played a part in the creating the culture of our town. And everyone had plenty of Carl stories to go around.
We met Michael Shelton and Shannon Sedwick of Esther's Follies, the 6th Street comedy club that has been satirizing the scene in Austin since the 1970s, while in the background through the window Carl spins his flowers all the while.


Woolf: Michael and Shannon did a great job of explaining how 6th Street was a collection of sex shops and dirty bookstores when Esther's Follies first opened up. Artist Jim Franklin also helped open up 6th Street to the masses by opening The Ritz and turning it into a music venue.
Peterson: Artist/musician/Esther's Follies troupe member: Kerry Awn of the Uranium Savages, a band whose love of satire and irreverence made Carl their mutual #1 fan from the start. Photographer Alan Pogue, who had a calling to document the various movements of liberation and the counter culture of 1970s Austin, leading him to cross paths with Carl on many occasions.


Woolf: Alan seemed to be photographing every defining moment of Austin's counterculture. His photographs have been used in many other Austin-centric docs like Last Days of Les Amis [aka Viva Les Amis] and the myriad of music docs that have come out of this town. We spent a lot of time in his archives finding the right photos to help bring the spirit of that time to life. He also had a ton of photos of Carl in a great variety of undress ...
Peterson: Max Nofziger, Carl's fellow flower salesman/political aspirant, who thought "If Carl can run for city council, why can't I?" and then won, and served for 9 years.


Woolf: This film gave us the chance to speak to two ex-mayors of Austin. We spent an afternoon with Lee Cooke and left with such a greater understanding of Austin. It was truly enlightening. He appreciated that we included a "member of the establishment" (his words). He actually gave the clearest description of how Carl affected the politics in Austin.
We also interviewed Will Wynn, who basically described Austin politics in one sentence: "Austin isn't about Democrats and Republicans, it's about enrivonmentalists versus developers." Boom, there it was!

 And many others.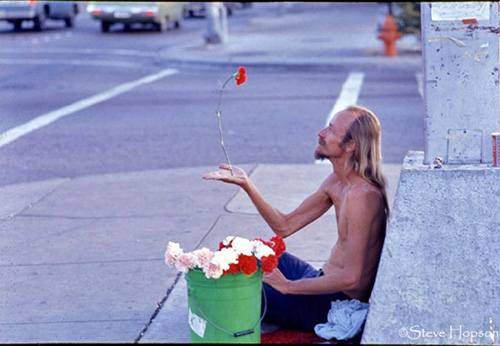 How does Carl represent the Austin culture and why is it important to share this story?
Peterson: In Carl's impressive "career" he's been a street performer, environmentalist, activist, nudist, trombonist, street vendor of sandwiches, marijuana salesman (in Holland), political candidate (before Leslie), and God knows what else. So, as far as Austin goes, Carl makes weird look pretty normal. These days, there is a kind of obsession about weirdness in Austin and if you moved here in recent years you would think that it has something to do with funky sculptures in front of colorful mansions on the east side. We are trying to give Carl his due here -- and Austin, because where else could a guy like that fit in so seamlessly?


It's an important story to tell because the culture and establishments that really flourished in the '60s-'70s created the atmosphere that makes this such a desirable place to live, but you just don't see much evidence of that culture these days, and you aren't going to hear much about it unless you or someone you know lived though it. And if you do want to hear that story, you really want to hear it from these people!


What were the challenges encountered in capturing this story? Archival footage source or music?
Peterson: It was challenging to weave all of the stories together to make it a story about wonderful old Austin and not just an old hippie with boobs, intriguing as that is. And that was doubly challenging because there were so many great stories that we wanted to tell but just didn't have a place in the story of Carl.


Without Alan Pogue's photographs it would have been a whole lot of telling, and very little showing. His images really brought the story to life.
Woolf: The music. To tell a story about Austin we knew the music would have to be great. So we used some licensed music like Doug Sahm's "Groover's Paradise" as well as tracks from the 13th Floor Elevators and Janis Joplin. But we were most excited about the original music we created for the film. The Uranium Savages wrote our theme song "Crazy Carl," and gave us a bunch of instrumentals to work with. We also worked with Spencer Perskin of Shiva's Headband. Not only did we learn that he started the psychedelic music movement of Austin -- and was a co-founder of the Armadillo World Headquarters -- he somehow seems to remember it all. Shiva's Headband re-recorded "Ripple," a '70s staple of theirs, and gave us a ton of improvisational kazoo solos to work with!


It didn't stop there. We shared a very rough sequence with Shawn Sahm, who was so inspired he penned an original tune -- "Old School Austin Groove," which he then further developed into a duet with Kevin Russell. This song ends the film and is a rocker. And lastly, as with all our documentaries we try and work with Kevin Russell. He wrote and recorded a beautiful love song called "Mad Man and Mademoiselle" about Carl and Charlotte. It's definitely the most emotional moment in the film.


What was the most memorable experience with your subjects during the filming of this doc?
Peterson, Yates and Woolf: Besides the man-boob scene?


Yates: This town, and the reputation it has for being a liberal zit on the fat Republican ass of Texas, began with people like him. From long-haired hippies to Vietnam war protesters, to anybody who was counterculture, Austin was a welcoming place. "Keep Austin Weird" really began with Carl and his peers.
Crazy Carl and his Man-Boobs screens at AFF on Saturday, October 25 at 2 pm at Rollins Theatre in the Long Center and Thursday, October 30 at 7 pm at Alamo Drafthouse Village. The short film Spoke, which chronicles The Broken Spoke -- the legendary Austin dance hall on South Lamar -- screens with Crazy Carl.