TAMI Flashback: Technology in Texas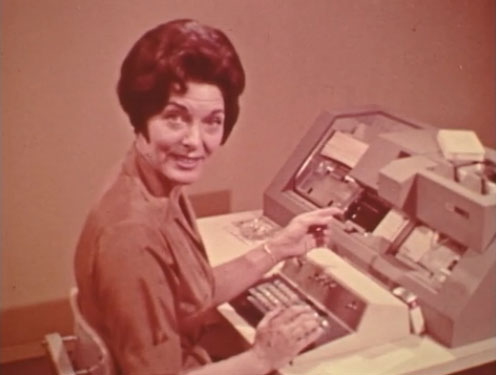 This article is part of a series about the Texas Archive of the Moving Image (TAMI) video library. For an overview of the TAMI site, refer to this article.
This month's TAMI Flashback videos feature cutting-edge technology -- cutting-edge more than 40 years ago, that is. Produced by Dallas-based Bill Stokes Associates, the three videos highlight the state of the art in late Sixties and early Seventies computers and electronics. The technical details may appeal only to your inner nerd -- but with their innovation-a-go-go vibe, the videos are entertaining looks at an era when most people had little exposure to high-tech equipment.
Made in 1966, The Computer Tutor is a cheery and sometimes amusing look at a then-new technology that still isn't perfect: optical character recognition, or OCR. The video sings the praises of an "electronic retina computing reader," which greatly improved OCR accuracy. Invented by Dallas-based Recognition Equipment, the device could read up to 2400 characters per second (or so the video claims) with less than one error per 100,000 characters, while simultaneously processing the data. By scanning in text, the device eliminated the need for the slow, expensive and error-prone process of transferring the information to punch cards.
The Computer Tutor explains the technology in great geeky detail, livening up the technical minutia with a bouncy soundtrack and goofy graphics straight from a children's cartoon. Everything in the video is very 1966, from a keypunch operator's hairstyle (she seems oblivious to her impending unemployment) to the refrigerator-sized computers with giant tape drives.
Despite the impressive display of hardware and software, the video may not be totally honest about the electronic retina's reliability. With high-speed paper feeders and three zillion or so parts, there was plenty of potential for jams and crashes.
[View original at Texas Archive of the Moving Image.]
A far more serious (and therefore unintentionally funny) video is The How-To Men of LTV Electrosystems, Inc., in which how-to men full of how-to, can-do attitude design advanced electronics for everything from aviation to warfare. (The video was made circa 1968; thanks to the how-to men, victory in Vietnam soon would be ours. Really, it would. America was a how-to nation then.)
The video is an artifact of Ling-Temco-Vought, a once-mighty Texas corporation later known simply as LTV. A conglomerate that produced everything from electronics to medicine to golf equipment (it even owned vacation resorts), LTV owned 33 companies in its heyday. But it eventually collapsed under the weight of its unwieldy structure and sold most of its assets; what remained of the company finally went bankrupt in 2000.
The How-To Men is a fine example of overblown corporate PR, a breathless love letter to the Very Important Work of LTV Electrosystems, which was based in Greenville. To a finger-snappin' jazz soundtrack, a narrator (doing his best to sound like Jack Webb in Dragnet 1967) gives us a rapid-fire description of the company's engineering successes. There's no problem LTV scientists and engineers can't solve -- these men are all about the how-to, baby, and they'll find a way to accomplish any mission! (Despite its title, the video does include several women -- in low-level supporting roles, of course. At LTV, apparently only the men knew how-to.)
[View original at Texas Archive of the Moving Image.]
A similar but not quite so breathless video is Collins Radio Company, a 1971 PR film for a Dallas-based electronics firm that designed telecommunications and information systems for the aviation industry, various other corporate clients, the military and NASA. (Collins provided equipment for the manned space program; it could brag that its products went to the moon.)
As it introduces the company's technical breakthroughs, Collins Radio Company's tone is matter of fact; its producers had the good sense to avoid corporate swagger and bravado, so the film is far harder to mock than The How-To Men. But it's a great window on early Seventies technology and culture, including a parade of long-lost airlines. (Remember Eastern, National, TWA, Braniff and Texas International? They're all in the video.)
There are a few amusing elements in Collins Radio Company, of course. Part of the soundtrack is an obvious rip-off of "Theme from Shaft" (a hip but odd choice for a corporate PR film), and the narrator repeatedly pronounces "modems" mo-DEMs. Maybe we should forgive him; the term was many years away from being a household word.