Fantastic Fest 2014 Wrap-up: 26 Ways to Party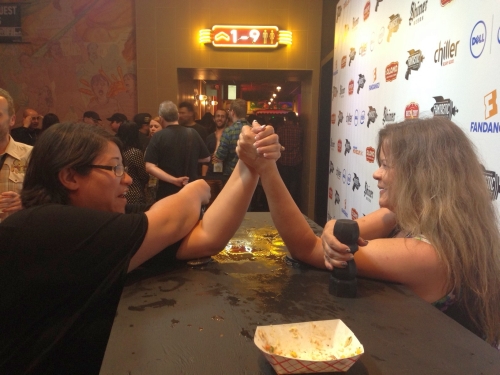 Fantastic Fest 2014 came to a close last week, and the tenth iteration of the festival was as packed with great films and events in the second half as in the first.
A highlight of the festival was I Am A Knife With Legs, the micro-budget comedy written, directed, edited by, and starring Los Angeles comedian Bennett Jones who answered audience questions in character as the existential Europop star Bené. The heavily musical film brings to mind creations such as Borat, though considerably cleaner, stranger and more inventive.
Tuesday night's Secret Screening was introduced by Alamo Drafthouse owner and festival co-founder Tim League, who toyed with the audience, providing nebulous background on the film but dimming the house lights without telling attendees what to expect. The German title Ich Seh, Ich Seh was of little help as well, and it was revealed only after playing that the English title of the film is Goodnight Mommy. This is one film best seen knowing as little as possible about it. Audience opinion was divided but generally positive.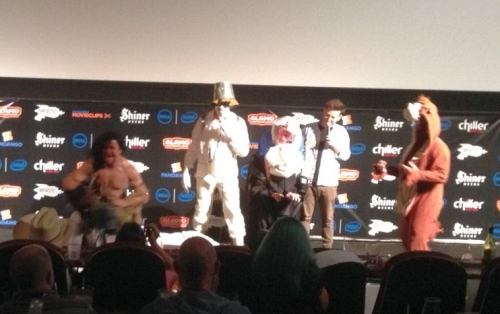 Following the secret screening, the Master Pancake crew was joined by Nacho Vigalondo to mercilessly mock The Island of Dr. Moreau. Writer and original director Richard Stanley followed up with a Q&A for the movie, the disastrous origins of which were chronicled in this year's festival entry Lost Soul: The Doomed Journey of Richard Stanley's Island of Dr. Moreau. (Stanley has never actually watched more than a few minutes of the film, which bears zero resemblance to the production he had planned.)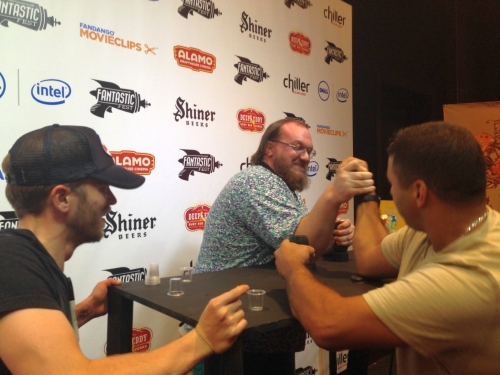 Finally, on the last day of the fest -- just before the closing-night film Nightcrawler, it was announced that due to weather the closing-night party would movie from the planned location at the ghost town to the South Lamar lobby. Festival director Kristen Bell and her staff set new records in making the most of a bad situation, and the ensuing party took over the building, with open screenings of festival films in five theaters, a live donkey photo booth in another, arm wrestling, water-balloon slingshot, apple bobbing, caricatures, karaoke and many more activities in the "26 Ways to Party" party.
But these are just the events I attended. The second half also included a Geeks Who Drink contest, a live comedy recording of The Meltdown With Jonah and Kumail, Karaoke Apocalypse and Maltin's Game Tournament (in which both Jette and Debbie placed) ... and all of this in just four days along with dozens of movies. Now that all this partying is finished it's time to get some reviews started, and I'll fill you in on my favorites from the fest over the next few days.