Fantastic Fest 2014: Fantastic Debates
It's been a couple of years since I've attended the Fantastic Debates, but since I began "casually" training in boxing earlier this year I wanted to see how well this year's debate participants would fare in the ring. This unique showcase of battle of wit, intellect and combat techniques features both rounds of debate and boxing.
Chilean martial artist and actor Marko Zaror (The Redeemer) was onhand (pictured above) to coach Alamo Drafthouse/Drafthouse Films staffer Jenny Jacobi and founder Tim League. The tenth anniversary of Fantastic Fest featured four matches at professional kickboxer and former world champion Randy Palmer's South Austin Gym, with the following participants and topics:
Filmmakers Joe Lynch (Everly) and Josh Ethier (Almost Human) with "RESOLVED: Samurais are infinitely more badass than cowboys in cinema."
Drafthouse Films Media Project Manager Jenny Jacobi versus filmmaker and Haapsalu Horror and Fantasy Film Festival Director Maria Reinup with "RESOLVED: Literature should not be adapted into movies."
Producer/film writer/Twitch website editor Todd Brown versus BitTorrent.com's Chief Content Officer Matt Mason with "RESOLVED: Bit-torrent is the savior—not the enemy—of independent film."
Filmmaker Ti West (The Sacrament) versus Alamo Drafthouse founder Tim League with "RESOLVED: The found-footage genre is a cancer eating away the integrity of cinema."
Some opponents were better matched in the debate than in the ring, with blood flowing and at least two fights called by referee Randy Palmer. Check out our photo highlights: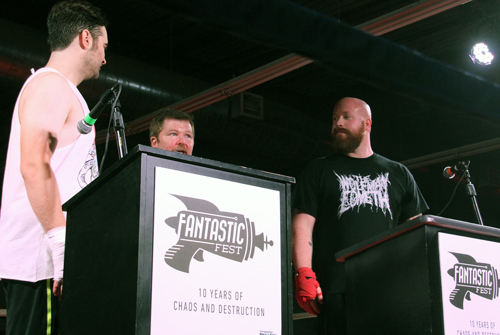 Ethier used the "cowboys represent America" argument to win over the audience response in the debate, but I thought Lynch made some effective points regarding Kurosawa and Sergio Leone.
Jenny Jacobi was a little weak in her debating skills against Maria Reinup, who won the pro-adaptation argument with her final verbal jab of "The Godfather." However, Jacobi's footwork and jabs were clearly stronger than Reinup's.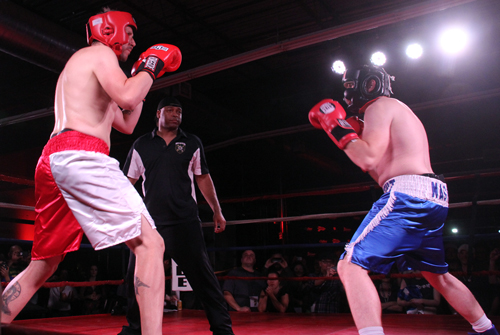 Matt Mason was extensively booed during the debate, placing much of his argument on "we can't and won't control the content" with extensive blame-shifting, but Brown threw some great verbal hooks such as "My boy is 13, but by the time Will was three, he knew he was responsible to clean up his own messes."
Brown took some hard punches to the face, leaving his nose bloodied and the fight called by Palmer, but he still was the clear audience winner overall.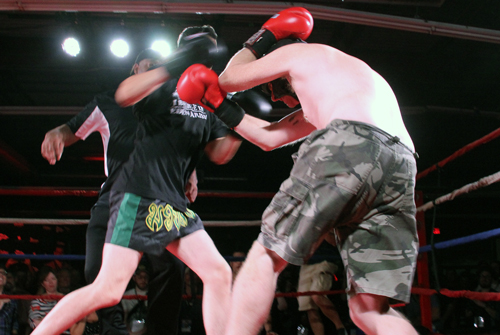 The title match was brutal as Ti West stated "blame the audience, not the filmmakers -- no one likes found footage" and that audiences should quit watching them.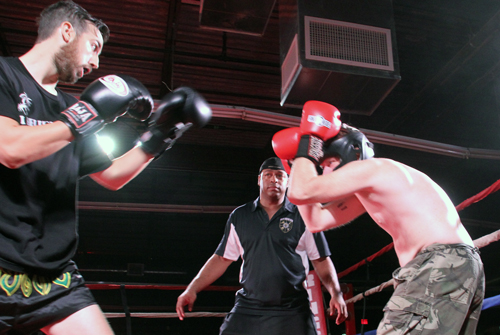 League keeps his gloves up to protect his face while West prepares to throw his next punch.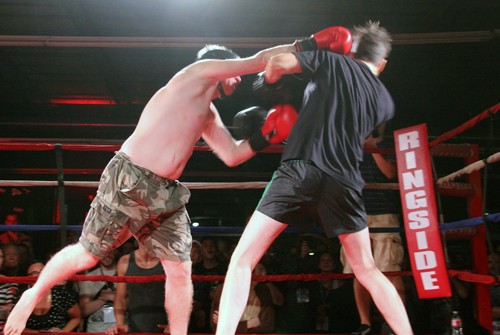 League manages a right punch -- note that West elected not to wear protective headgear.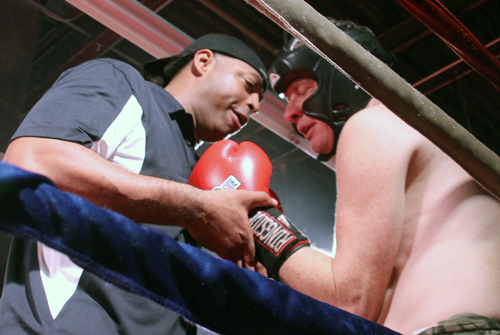 Referee Randy Palmer checks Tim League to determine his physical state, and calls the fight after the next knockout punch.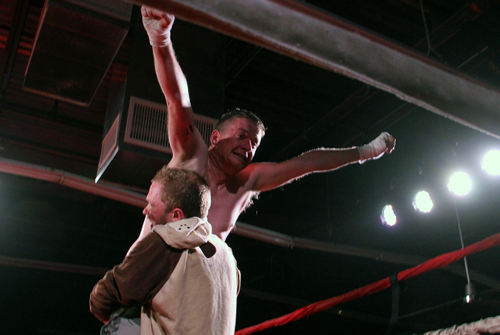 Tim League may not have won the boxing match but was victorious for his debate for the fifth year in a row.
[Photo credits: all photos by Debbie Cerda, all rights reserved but permission may be granted upon request and with attribution.]