Fantastic Fest 2014: A Day at MondoCon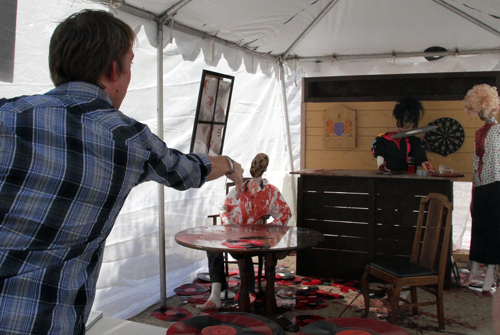 I took a break from Fantastic Fest on Sunday to visit MondoCon at the Marchesa Theater. The crowds had thinned out a bit from Saturday's opening day, but the impact of the overwhelming response to the first-ever MondoCon was evident from the sold-out Mondo Beer and food-truck menu items.
I was quite impressed with the use of space for the event: two rooms full of artists and dealers, a pleasantly diverse assortment of food trucks, a special tent with Mondo posters and vinyl available for purchase, and a Shaun of the Dead record-tossing game booth, as seen above. I gave it a try and won a beer-colored variant of the Shaun of the Dead score.
The theater auditorium itself held panels and screenings throughout the weekend. I was sorry to miss local film composer Brian Satterwhite's Saturday panel "2001: A Lost Score", which featured a live presentation of several scenes from 2001: A Space Odyssey with the original abandoned score by late composer Alex North (A Streetcar Named Desire, Spartacus) reintegrated back to the film. However I was able to purchase an album (vinyl!) of "Music for 2001: A Space Odyssey" complete with liner notes by Jon Burlingame, who writes about television and film music.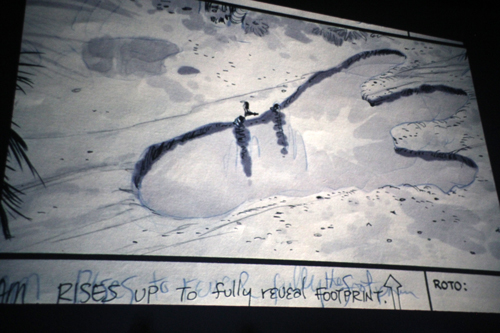 I did attend the Godzilla 1983 panel with conceptual artist William Stout taking the audience through hundreds of storyboards and conceptual art designs that he created with Dave Stevens (The Rocketeer) and Doug Widley (Johnny Quest). Back in the 1980s, Stout and the rest of the creative team had put hundreds of hours of work into a U.S. produced feature film about Godzilla that never made it to the big screen.
Stout brought the story to life through his narration and projection of images of the film such as the one seen above. The panel was an unique and entertaining opportunity to experience a film that was never made, which seems to becoming a theme at Fantastic Fest (Jodorowsky's Dune, Lost Soul).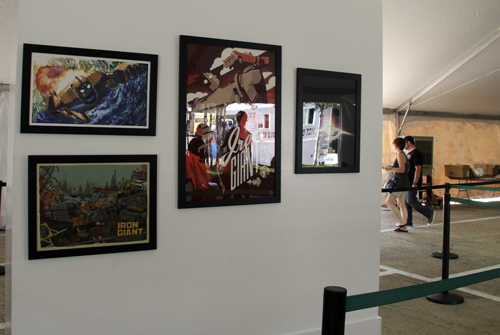 Artwork for the engaging animated movie The Iron Giant was a real crowdpleaser and favorite in the Mondo Gallery tent, with several beautifully creative posters from various artists (pictured above). Choosing a poster at MondoCon was quite difficult, and I opted for a Time Bandits poster by artist Rich Kelly in addition to my 2001 and Looper special vinyl edition purchases.
I saw many Fantastic Fest attendees at MondoCon on Sunday, as well as serious collectors armed with poster tubes and art portfolio cases. Overall, I'd highly recommend attending MondoCon next year, but be sure to save up your money -- the most frequent comment I've heard from attendees is how much they spent on "hard to resist" offerings at this great event.
[Photo credit: All images by Debbie Cerda, for use upon request with attribution.]