Fantastic Fest 2014: Grounded in 'Realiti'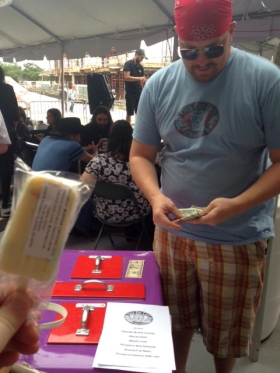 I'm a couple days into my tenth Fantastic Fest, and it's easy to see why I keep coming back. Before the fest even officially starts, there are parties at Pinballz and Peter Pan Putt-Putt and barbecue with friends arriving from around the world.
Day One began with Kevin Smith rapping with Tim League backed by dozens of people in eyeball costumes. It ended with a food fight free-for-all of which I saw only the aftermath: League in a cheeky Carmen Miranda outfit and dozens of people soaked and slathered in every sort of slop.
In between, there was a walrus Freaky Friday (Tusk), an Australian Inception Realiti), and Cub Scout Carnage (Cub).
Day Two was a full slate with Jacky in the Kingdom of Women, the Marko Zaror action flick Redeemer, James Gunn-produced horror The Hive, and surreal comic Free Fall. In between these movies, I visited Devin Steuerwald's Dia de las Paletas cart (pictured at right) to keep cool with frozen treats.
So far, the programming at Fantastic Fest 2014 has been heavy on realism, with characters and situations that could actually happen, and short on supernatural or escapist themes. My slate this year has been full of confusing films; Realiti and Free Fall were both difficult to follow in spite of some really amazing scenes and great performances. That said, I did skip the Studio Ghibli premiere of The Tale of Princess Kaguya, which has received rave reviews [note from Jette: I really liked it myself], to see Jacky in the Kingdom of Women.
Some films that are must-sees this year based on audience buzz are Electric Boogaloo: The Wild, Untold Story of Cannon Films, John Wick and Force Majeure. I also recommend Dwarves Kingdom and Creeping Garden, both documentaries grounded in the real world but at its fantastic edges.
PS: If you're at the fest, I'd also like to recommend From the Dark so you can catch Austinite Chris Todd's short Bon Appetit beforehand.