Fantastic Fest 2014: Chaos Reigns (Again)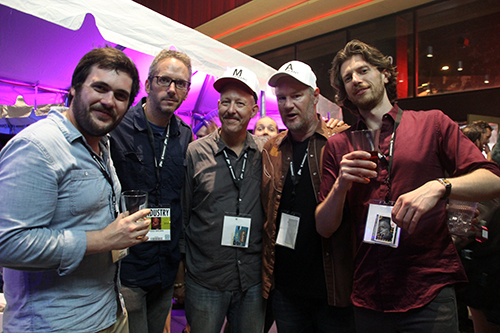 Two days into Fantastic Fest and it already feels like Day Five -- daily downpours, full parking and an overflowing lobby can't deter the spirit of the 1,650 attendees at this year's jam-packed film festival. The theme song that comes to mind is Daft Punk's "Harder, Better, Faster, Stronger." My mantra of "it's a marathon, not a sprint" has already been replaced with the festival motto "Chaos reigns," as I've managed to fit in five films, three red carpets, two parties and two late nights in just the first two days. Let's not even discuss how much I've already spent on alcohol at The Highball.
ABCs of Death 2 was one of the opening-night films, bringing together 26 directors from around the world. The filmmakers were sworn to secrecy about which letters they were assigned until the premiere of this ambititous anthology produced by Tim League and Ant Timpson. You can see Timpson in the above photo with writer/actor David Ashby, director Dario Russo of Danger 5, and ABCs of Death 2 segment producers Todd Brown and Marc Walkow.
The new online ticketing works like a charm, and most attendees seem quite pleased with the paperless system. Yesterday I checked out both the "relinquish" and "swap" ticket options, and was impressed with the ease of making a change in advance of screenings. Just be sure to either print your email confirmation or have your smartphone fully charged before leaving for the theater each day.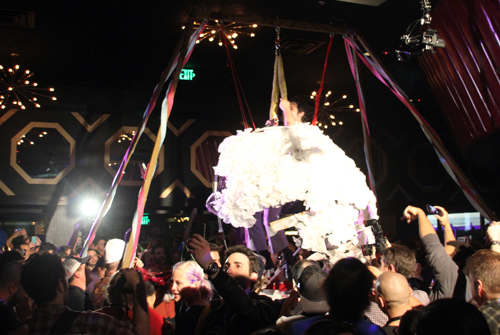 Some festival veterans have pledged to hit every screening time slot and not attend any of the parties, but how can you resist a 10-year-old's birthday-party theme for the opening party? My suspicions of who would be brave enough to serve as a human pinata were confirmed when Zack Carlson was suspended from the Highball ceiling -- keep in mind that Carlson took a gore cannon to the crotch at the opening party in 2007.
I skipped the food fight that took place on the roof of the new parking garage, but witnessed the aftermath of giddy revelers covered in chocolate pudding and spaghetti sauce.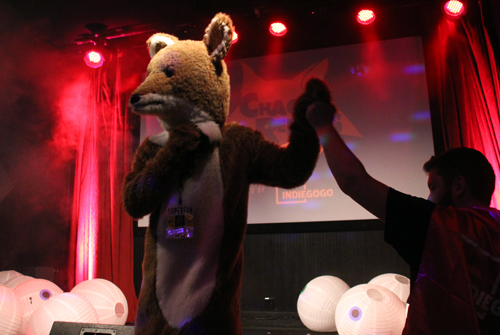 The Chaos Reigns Karaoke party was appropriately kicked off by Tim League singing to the crowd in a fox costume, as seen above. I skipped the midnight screenings on Day One and Two to attend the parties, as there will be time enough to get to the midnight screenings later in the festival when the crowds thin out a little.
Speaking of movies, I've yet to see a film that I did not enjoy. Loosely based on the true story of the Honeymoon Killers Martha Beck and Raymond Fernandez, Alleluia exceeded my expectations and had me both jumping out of my seat and laughing at its dark and morbid humor. The thriller is bolstered by brilliant performances by lead actors Lola Duenas and Laurent Lucas as the psychotic couple on a sordid criminal path.
When Animals Dream is a powerful coming-of-age story unlike any ever witnessed on the scene. What transpires in a paranoid Danish community will have you wondering who the real monsters are in this visceral and touching film. I was most impressed with the strong performance from lead actresses Sonia Suhl and Sonja Richter.
I briefly thought about opting out of John Wick until the film opens wide, but I'm glad I caught the premiere. I was pleasantly surprised by the emotion and strength displayed by Keanu Reeves as a former hitman who is affected by personal tragedy. The fight choreography is top-notch, but it's the smart and witty dialogue that had the audience truly engaged. I definitely recommend this film for action fans.
Now let's see how long I can live by my long-standing and ill-conceived festival mantra -- "sleep is the enemy" -- as I prepare for a weekend at MondoCon and more films.
[Photo credits: "The ABCs of Death and Danger 5 filmmakers," "Human Pinata," "Chaos Reigns," by Debbie Cerda, for use upon request and with attribution.]