Fantastic Fest 2014: 'Tusk' with Kevin Smith and Justin Long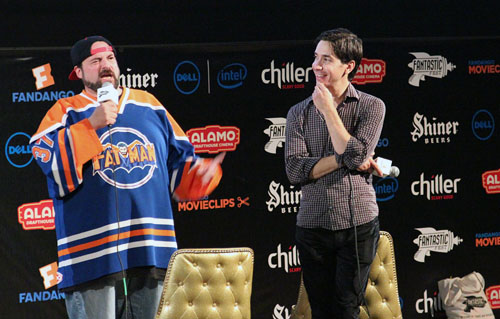 I'm about to head right out the door again for the second day of Fantastic Fest, but thought I'd share a couple of photos from the Q&A at last night's opening-night film, Tusk. Kevin Smith and Justin Long were game enough to participate in Tim League's crazy opening rap before the movie, but sadly, I don't have any photos of that. Yet.
Moderated by League, Smith and Long (okay, mostly Smith) held a lively discussion after the film that was simulcast not only to other theaters at the fest but to other Drafthouse theaters in other cities. My favorite part was Long's eerily accurate Marty McFly imitation (don't even ask how we got there). I had to leave a little early but no one had asked any dumb questions up until that point, although admittedly the questions were being filtered beforehand.
Theatergoers at Fantastic Fest, at least, got little walrus masks and convenience store go-cups at their seats, which were explained as the movie progressed. And tea was served -- again, you want to see the movie to get the reference.
You also want to see Tusk before you watch the Q&A, which is now available on YouTube. I've embedded it below.
Here's one more photo of Long and Smith ... and now I've got to dash. Tusk review is forthcoming.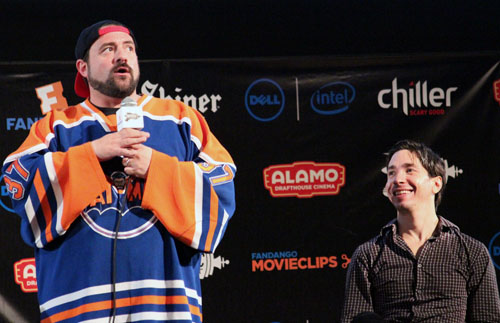 [Photo credit: J. Kernion, all rights reserved, but permission usually granted upon request.]