Review: A Walk Among the Tombstones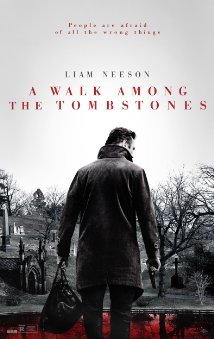 Liam Neeson taking on kidnappers, that's nothing new, right? This weekend's release, A Walk Among the Tombstones, is true to form. Neeson plays Matt Scudder, a detective who retired from the NYPD after being involved in a violent gunfight while under the influence. A plea for assistance from a fellow AA member involves him in a rather grisly kidnapping plot and also offers him a chance at redemption.
Writer/director Scott Frank (The Wolverine, Minority Report, Get Shorty), is responsible for some of Hollywood's biggest hits. This may not be one of them, as it attempts to re-create the formula of Neeson's Taken series. It is, however, a solid thriller that still manages a few surprises.
First is the introduction of a juvenile yet very capable sidekick. Brian "Astro" Bradley (Earth to Echo) plays TJ, a streetwise kid with a love of detective stories and knack for getting himself in trouble while turning up clues essential to Scudder's investigations. TJ never loses his cool whether confronting street thugs or the 6'4" frame of Neeson, and the young man has the beginnings of a great film career with his first three features (A remake of the 1999 Space Jam has already completed shooting.)
Speaking of shooting, another surprise in A Walk Among the Tombstones was the strong anti-gun message in such a dark and violent film. There are subtle references throughout as well as an emphatic lecture from Scudder to TJ on the subject. It seems out of place in a movie like this, though it serves the plot by providing some audience insight into Scudder's backstory.
Dark as it is -- and by dark, I mean completely, entirely gruesome -- Frank skillfully balances his script with a few one-liners that lighten the mood. Scudder's first telephone confrontation with the villains was exciting, no matter that its tone was entirely lifted from Taken. As the final confrontation began, I found myself emotionally drawn in, not just worried for the victim but sympathizing also with Neeson's character, and that was something I didn't expect.