aGLIFF 2014 Dispatch: 'Appropriate Behavior' for Closing Night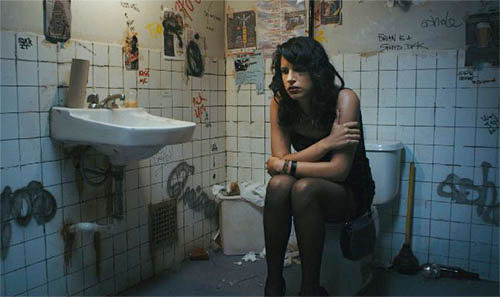 The Sunday evening screening of the aGLIFF closing-night narrative film, Appropriate Behavior, was a great way to wrap up my time at the festival.
It's no surprise that the movie was a hit at this year's Sundance Film Festival; it's a terrific debut feature from writer/director/star Desiree Akhavan. I'm generally not a fan of romantic comedies, but Appropriate Behavior is so thoroughly snarky -- and often so defiantly anti-romantic -- that it's a rom-com even a cynic could tolerate.
Akhavan stars as Shirin, a young Brooklynite who's something of a poster child for the angst of young adulthood. She's still smarting from a hard breakup with her ex-girlfriend, Maxine (Rebecca Henderson). She struggles to be part of her perfect Persian family and is afraid to tell her parents she's bisexual. And her filmmaking career exists only in theory; the closest she comes to making movies is teaching her art -- more like attempting to teach it -- to a class of hyperactive 6-year-olds.
When Shirin's brother, Ali (Arian Moayed) -- a doctor, of course -- announces his engagement to a woman his parents adore -- also a doctor, of course -- Shirin goes on a bender of rebellion. Broke after her breakup, she moves from her comfy apartment into a cramped, dirty loft with two bohemian roommates and embarks on a string of sexual adventures.
Appropriate Behavior shows us the birth and death of Shirin and Maxine's relationship in flashback, frequently jumping between past and present; neither seems like a happy time for Shirin. She and Maxine enjoy a few warmly romantic moments, but they fight far more often, and it's a bit of a mystery why Shirin still mourns their breakup. Apparently moving on isn't her forte.
The humor of Appropriate Behavior lies in Shirin's dry and deadpan reactions to an endless parade of absurd situations. These farcical circumstances are largely self inflicted, from her inept struggle to interest 6-year-olds in film history to her awkward sexual hookups to a hilarious episode with a psychoanalyzing lingerie saleswoman. Comparisons between Akhavan and Tina Fey are obvious, but Ackhavan's humor also has strong shades of Woody Allen's early work, daft and self-effacing and bitterly ironic.
Drollery aside, Appropriate Behavior is also a nuanced, touching movie about the human need for acceptance. Shirin fits in nowhere -- not with her family, the kids she teaches, or the dating scene -- and her loneliness is a constant presence in the film, even in its funniest moments. Appropriate Behavior also is about the unspoken understandings among family members; Shirin's parents obviously know she's bisexual, but Iranian cultural norms dictate an official family policy of don't ask, don't tell.
With Appropriate Behavior, Akhavan has established herself as a great comic talent and promising filmmaker. The film is exceptionally mature for a first feature, and will have a well deserved nationwide release in January 2015.
Appropriate Behavior was a perfect ending to aGLIFF. It screened to a smallish but enthusiastic audience at the Stateside Theatre, a crowd that also appreciated a short about a bisexual teenage girl, BI BI, created by aGLIFF's Queer Youth Media Project.
The vibe at the screening was like the vibe throughout aGLIFF this year: more subdued than at festivals of yore, with their crowds and camp and occasional craziness. But this year's lineup was strong, and the audiences -- far larger than in the past couple of years -- seemed satisfied. aGLIFF, it appears, is back. If the festival can keep booking great films like Appropriate Behavior and my other festival favorite, Matt Shepard Is a Friend of Mine, it will be back for years to come.