Fantastic Fest 2014 Guide: Boozin' It Up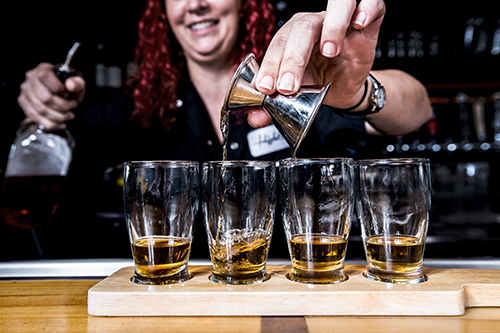 A lot has changed since Alamo Drafthouse South Lamar last hosted Fantastic Fest, in 2012. The craft beer scene across the nation continues to grow, and both Austin and the Alamo Drafthouse offer fabulous selections to demonstrate the dedication and passion that brewers and beer enthusiasts have for a good brew.
Texas has experienced a welcome growth of local craft breweries along with an influx of world-renowned breweries from across the United States -- Firestone Walker Brewing Company, Epic Brewing, Founders Brewing, Odell Brewing are just a few on local tap walls.
Alamo Drafthouse recently announced the launch of a new beer program, featuring a new style every month. This month's offering is Octoberfest, a deep gold to copper-colored lager that typically features bright clarity and a solid, off-white head. This style is composed of Vienna and Munich malts that contributes a toasty caramel and rich melanoidin character with some moderate hop bitterness and mild sweetness. Current Octoberfest selections on tap at Alamo South Lamar include the traditional Ayinger Oktober Fest-Märzen as well as Texas favorites -- Real Ale Brewing Company's Oktoberfest, Houston's Karbach Brewing Company Karbachtoberfest and Port Spiral Oktoberfest.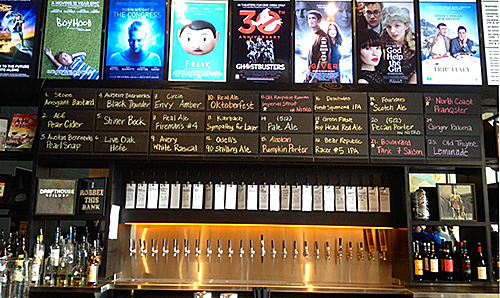 You can now grab a pint from the new lobby bar while waiting for your next screening. Current offerings include Live Oak Brewing Company Hefe, North Coast Pranqster, (512) Brewing Pecan Porter on nitro, and many other selections as seen above.
The Highball offers 22 craft beers on tap, featuring a mix of local, regional and national craft beers, with taps from as nearby as Austin Beerworks and as far away as Green Flash and Stone Brewing in California. Enjoy a beer flight if you aren't sure what to drink. Gluten-free and non-alcoholic bottled beer is also available.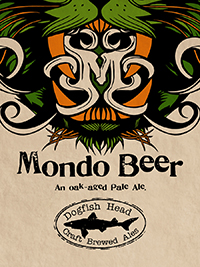 Over at MondoCon at The Marchesa Theatre, Dogfish Head Craft Brewery -- the official MondoCon beer vendor -- has brewed a special "Mondo Beer" exclusively for the convention.
"Mondo Beer" is a pale ale that has been aged in Dogfish Head's one-of-a-kind giant oak tanks at their Delaware brewery. According to the MondoCon blog, "The oak-aging process shares a connection with Texas for its oak tree and the artists of MondoCon who use pulp and paper as the medium for their great works of art."
This year's Fantastic Fest beer sponsor is Shiner Beers from the Spoetzl Brewery, which was founded about 100 years ago in Shiner, Texas. Shiner is best known for their flagship brew, Shiner Bock, which makes up over 80 percent of the brewery's sales, but also offers the Wild Hare Pale Ale.
Need a break from beer? Plenty of great cocktails and wines are available both at Alamo South Lamar (yes, they serve booze now!) and in The Highball.
The cocktail menu at The Highball features rotating seasonal cocktails as well as returning favorites, including the 78704 (Cucumber infused gin, lemon juice, basil, celery bitters), the Witchy Woman (Citrus infused vodka, maraschino liqueur, Strega, lemon), and La Sucia (Reposado Tequila, house rice milk, cinnamon vanilla syrup, nutmeg). My personal selection for a Fantastic Fest-themed cocktail is the Penicillin (Single malt and blended scotch, honey ginger syrup, lemon, ginger).
Rumor has it that The Highball also offers gin from local distillery Revolution Spirits -- I've never met a gin that I liked until I tried the Austin Reserve Gin, but now I am hooked!
Bill Norris' selection of wines have also converted me to less favored styles, including fabulous rosés and chardonnays in both Alamo Drafthouse theaters as well as at The Highball.
Want to venture out and explore what libations Austin has to offer? Here's a few tried and true recommendations:
Downtown/north of the river
Opal Divine's Freehouse has closed, and the Dog and Duck will be making way soon for condos so be sure to stop in -- no news yet where they'll relocate. Here are a few recommendations:
Barton Springs Road
In the mood for a margarita? You won't want to miss the selection along this well-known restaurant row: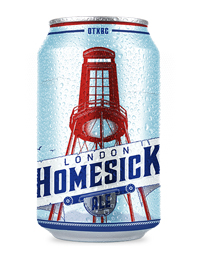 South Lamar

Austin Beer Garden Brewing Company (1305 W. Oltorf), just around the corner from Alamo South Lamar, recently celebrated its first anniversary, and is a popular destination for great hoppy brews, live music and tasty pizza at its communal tables.
Need to pick up some great new local beer like Oasis Texas Brewing Company's London Homesick Ale or hard to find brews from around the world while you are in the area?
Check out the monstrous selection at WhichCraft Beer Store, just a short walk from Alamo South Lamar. You can buy singles as well as cold six-packs -- be forewarned that it took me half an hour just to pick up a six-pack each of Twisted X Brewing Company Lager and Austin Beerworks Peacemaker "Anytime" Ale as I was continuously distracted by the diversity of WhichCraft offerings.
Other highlights on South Lamar:
Black Sheep Lodge (2108 S. Lamar) -- Monday is Keep Austin Local! day with Texas pints and liquors, including Tito's Vodka and Deep Eddy Sweet Vodka.
Red's Porch (3508 S. Lamar) -- Great comfort food with tasty cocktails and great craft beers. Check out their happy hour specials.
Remember that moderation is the best preventive cure for a hangover. As with any film festival and the socializing that accompanies it -- it's a marathon, not a sprint! Be sure to stay hydrated, and enjoy some low ABV beers to pace yourself.
Any recommendations from our fellow Austinites or seasoned Fantastic Fest visitors? Leave a comment and we'll add it to the guide.
[Photo credits: "Bar Manager Heather Smith," courtesy of The Highball, "Alamo Drafthouse South Lamar Lobby Bar", by Debbie Cerda]