Insider's Guide: Alamo Drafthouse Menu Hacks
Everyone knows that places like Torchy's Tacos and In-n-Out Burger have secret menus, for a given definition of "secret." Slackerwood has done much in-depth research (okay, I asked on social media) and can now offer you a guide to customizing the Alamo Drafthouse menu. This can definitely come in handy during film festivals when you don't have time to rush over to a nearby fast-food joint and find yourself facing the same menu for the fifth day running. Especially if you are a Drafthouse regular anyway.
The best advice I have: Order off the kids' menu. It's okay for grownups to do this. The chicken strips are especially flavorful and you can add more if two aren't enough. The milkshakes come in simple flavors, like chocolate and vanilla. It's not the most healthful food on the menu (although you can get fruit as a side!) but I really like the smaller portion sizes.
Also important: Menu variations are favors, so tip really well. Adding this and holding that can make extra work for waitstaff (who have to enter your orders into a computer with all those notations) and then kitchen staff. Always be polite, and don't go overboard with your menu hacks when there's a full house. I know the Drafthouse food isn't cheap and you can spend a lot on it during festivals, but if you're asking for variations, you definitely need to budget an extra 20 percent, minimum, for the gratuity. And yes, you probably will be charged extra for side substitutions and additions, so don't be grouchy. (And no, you won't be charged less for holding the bacon or the cheese or avocado, but that's the restaurant biz everywhere.)
Caveat: Slackerwood is not responsible if you suffer a heart attack or any physical distress from eating the more calorie-and-fat-loaded items listed in this article. Funny how most hacks are not in the name of healthfulness. Also, not all hacks may be available at all Drafthouse locations, although it can't hurt to ask.
Off the menu
Pizzas: You can usually still get away with ordering the old-school Enter the Dragon (sausage, olives, jalapenos, crushed red pepper), Blazing Saddles (barbecue sauce and chicken) and Raging Bull (pepperoni/ham/sausage) even though they're not on the menu anymore.
Any pizza can be made into a calzone, notes Fantastic Fest regular George Hickman (who played a hot dog to my ninja in a Fantastic Fest bumper this year). Neil Wilson, the king of Drafthouse menu hacking, says this works best with pepperoni pizza, especially if you let it set briefly before eating. (Otherwise you run the risk of ingredients falling out.)
The fried egg BLT sandwich listed on the brunch menu is often available all day -- just ask. And you can add cheddar cheese if that's your thing.
Enhancing existing menu items
Don't be afraid to ask for a variation on a menu item to get what you want, whether you're trying to get a plainer hamburger or a fancy pizza. Again, when you start messing with the menu items to this extent, do tip a little (or a lot) extra.
Breakfast hack: Fantastic Fest regular Noah Lee suggests you order the loaded fries ... with a fried egg on top. If it's got an egg, it's a nutritious breakfast, right?
Also for fries fans (so many of us), Rewind This producer Carolee Mitchell gets her queso fries with steak on top.
You can add bacon and avocado to the kids' grilled cheese sandwich, notes Stephanie Stone-Robb, who spends a lot of time at the DFW-area Drafthouse.
Don't be afraid to order your hamburger the way you want it. Drafthouse menu options are for fancy burgers, but if you want a plain burger, just ask. Or get it wrapped in lettuce instead of on a bun. Also, some Drafthouse locations are introducing a turkey patty you can substitute on your burger, which Neil says is quite tasty. (The menu already includes the option of subbing grilled chicken or a veggie burger.)
Same goes for pizza and the many toppings available. Like goat cheese? Festgoer Jonathan Brown notes you can ask to have it added to any pie.
Salads can be customized too, and any salad can be made into a wrap.
In a PBJ mood? Neil recommends getting the chocolate peanut-butter milkshake, but asking to substitute strawberry for chocolate.
50 ways to eat your mac and cheese
I got a lot of advice about how to dress up the Hatch green chile mac and cheese. Personally, I dress it down -- I ask them to take the chiles off the top. You still get a bit of the chile in the dish without overkill. But most people like to add items:
If you want to stick to established menu options, you can get a fried egg on top. Now it's breakfast.
Mike Saulters likes to add a chicken strip and says if you're lucky, they'll even cut it up for you when they put it on the mac and cheese.
Carolee suggests adding bacon on top of that bad boy.
Neil suggests even more options: steak, grilled chicken, tofu, or any pizza toppings you like including pepperoni or Italian sausage.
Can I get a side of ...
If you don't like the side that comes with your meal, look at the other sides on the menu and ask if you can substitute. Chips, fries and fruit are the most common sides, but others might be available -- for example, the hummus comes with veggie sticks and pita wedges.
Another way to add variety to your meal is by requesting the following condiments:
Sriracha should be available since it's used on the banh mi hot dogs. No idea if it costs extra, since Mike found out accidentally that it is superb with the asparagus and gorgonzola pizza. I imagine it might work well on the mac and cheese too.
Wing sauce for the chicken strips, if you want to make your own boneless wings, so to speak. Also, Neil points out that since the hot wings can be messy, try ordering the wing sauce on the side instead of on the wings.
Marinara is a great option for your favorite carby menu item. Festgoer Zack McGee notes it's a nice vegan addition for your pretzel, in lieu of queso. Marinara should be included on the side automatically with your calzone, but Neil points out this doesn't always happen, so specify it on your order card if you want it.
Ranch dressing is another side you can request, if you want it with your pretzel or calzone.
Finally, who could forget queso. Keith & Heath filmmaker Andy Young tells me you can get a small side of queso for $2, which is nice if you're getting a burger and fries and want just that little bit extra. Or dip your grilled cheese sandwich into it, Neil suggests.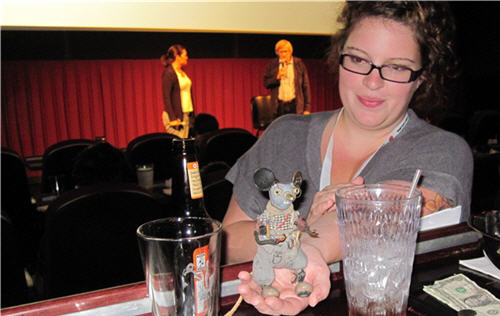 Stop-motion rats are not an off-the-menu hack, sorry.
Other tips and tricks
For a simple, healthy breakfast, festgoer Sandra Calderon suggests the kids' veggie and fruit plate: peanut butter with slices of celery, carrots, apples and bananas.
Red Hot Vegans has a great article about vegan menu hacks at Alamo Drafthouse. (h/t: Jim Miller)
Depending on the location, you might be able to order off the food/drinks menu at the adjoining Glass Half Full/40 Rabbits/Highball, Stephanie advises. Or you could order at the bar and bring it into the theater. The box-office bar at Alamo South Lamar has drinks you can't order in a theater, I am told.
At Fantastic Fest, Dia De Las Paletas will be back with Devin Stueurwald offering his refreshing paletas (Mexican popsicles): last year's super-popular "Saturday morning cartoons" (contains cereal), Nutella cream, matcha ginger mousse, strawberry basil lemonade, passion fruit mojito, and coconut lemongrass kafir lime. Rumor has it -- okay, Devin told me -- that a special paleta created at the request of Marko Zaror is available in limited quantities off the menu. The paletas are perfect to enjoy when you're waiting outside for the next movie.
Go ahead and share your Drafthouse menu hacks in the comments. And many thanks to all of you who contributed ideas for this article -- I could never be so creative with the menu on my own.
[Photo credit: "Alamo South Order Card" by Mike Saulters for Slackerwood, all rights reserved; "Alamo South Lamar 6/23/14" by Alamo Drafthouse Cinema, used with permission; "Caitlin Stevens at In the Attic, Fantastic Fest 2010" by Jenn Brown for Slackerwood, all rights reserved.]