Semi-TAMI-Flashback: Missing Molly Ivins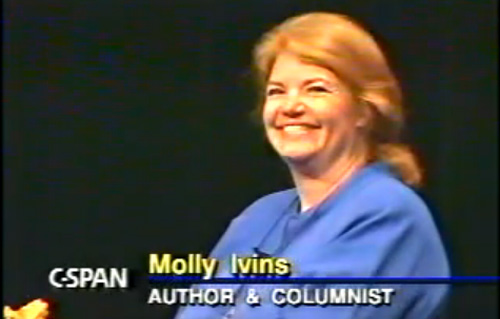 I'm writing this on Sunday, August 31. If Molly Ivins were still alive, it would be her 70th birthday. And today is Labor Day, so it seems like a fine time to remember my favorite political columnist through movie and video clips.
Actually, Don writing a TAMI Flashback about John Henry Faulk (go read it when you're done here) inspired me. I had first read about Faulk in Ivins' essay in Molly Ivins Can't Say That, Can She? If you watch the TAMI video from Faulk's memorial service, right at the end Ivins tells a very funny story from that essay. Here, I'll make it easy on you by embedding the video again. Skip ahead to 1:24:00 for Ivins. (The story might also make you feel nostalgic about Cinema West.)
I intended to do a full TAMI Flashback but the Texas Image of the Moving Archive has only one other video featuring Ivins. It's Ann Richards' inauguration in 1991. One of the nice things about TAMI videos is that if you view them on the TAMI website, there are markers in a list next to the video so you can skip to a relevant portion. Ivins turns up at about 1:18:20 to "host" the broadcast of the inaguration.
It's not Ivins at her wittiest by any means, she's obviously scripted and well behaved. (She talks about former Gov. Mark White seriously without using her favorite nickname for him, sadly.) I love that the hosts are pointing out politicians but the camera rarely zooms in to actually show us those people. Plus, Henry Cisneros is with her and he's mighty easy on the eyes ... and would you look at that sparse downtown Austin skyline.
Something else interesting: The National Anthem is sung (beautifully) by Barbara Smith Conrad, but the broadcast camerawork is so terrible that they never actually show her, nor mention anything about her. So you might not know that she's an African-American opera singer who dealt with ugly racism at The University of Texas at Austin in the late 1950s but went on to graduate anyway and have a stellar career. SXSW 2010 documentary When I Rise (Jordan's article) has the whole story -- my point is that this performance has special gravity. (And I would tell you to go watch When I Rise, but it looks like you have to buy a DVD from PBS, as the streaming options are no longer available. Boooo.)
At any rate, while the above video is certainly historically significant, it's not nearly as fun as Ivins' interview for the documentary Dildo Diaries, in which she details Texas law (at that time) regarding the possession of the sex toys. Again, if you want to watch the movie you probably have to buy the DVD from the website, although I'd check Vulcan or I Luv Video first. (Can someone please make all these Texas indie documentaries available streaming? I mean, I'll pay to rent them, but it's ridiculous not to have that option.) The clip below is fairly poor quality but you can hear Ivins quite clearly, which is the point ... and also enjoy a clip of Rep. Warren Chisum trying to outlaw heterosexual sodomy. (I laughed so hard I scared the cat.)
If you search for "Molly Ivins" on YouTube -- or better yet, surprisingly, C-Span -- you can really fall down a rabbit hole. A six-part video from a 1992 Mother Jones fundraiser, in which Susan Faludi interviews Ivins, has some great gems (start here). My favorite is Part 5, where she tells a somewhat ribald story about H. Ross Perot and imitates him delightfully.
I especially like a short clip on Vimeo of Ivins describing her experiences writing for The New York Times (it's not embeddable, so you'll just have to click the link).
Some filmmakers appear to be hard at work on a documentary called Raise Hell: The Life and Times of Molly Ivins. There's a "sizzle cut" on Vimeo (basically an extended trailer) that contains plenty of delightful clips. For reasons I cannot comprehend, it's not embeddable. In fact, a spot on the front of the film's website for the embedded video now has a big "Sorry" message on it, which to be honest, looks awful and amateurish on the front page of a website designed to promote a film production. The production's Facebook page has current posts so I'm assuming the project is still viable. If you're involved with this film and want to tell me more about it, please do contact me.
I'll finish up with -- not a video, but a link to a Texas Observer column published after Ivins' death in 2007, called "Struggling with the Red Queen." You can find lots of memorial articles, but this one is a favorite of mine because it was written by author/screenwriter Bud Shrake. Shrake would die two years later of lung cancer, so the column is especially bittersweet.