aGLIFF and AFF Reveal Lineup Details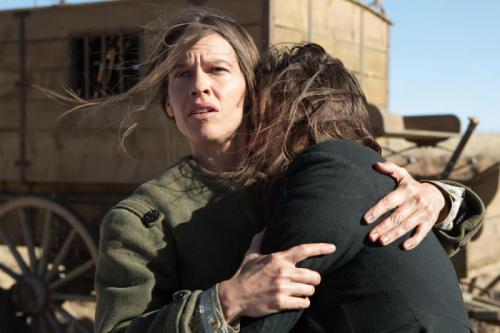 The Austin Film Festival has announced its first wave of film screenings, including Centerpiece Film Black and White (directed by Mike Binder and starring Kevin Costner), documentary 21 Years: Richard Linklater, and Dawn Patrol, directed by AFF regular Daniel Petrie Jr. This initial list is a mix of world and regional premieres and provides glimpses of a diverse program; among other things, festivalgoers will have the chance to see a Texas-based political documentary, a pioneer drama with an all-star cast, and Benedict Cumberbatch playing the role of Alan Turing.
The writer-focused festival runs Oct. 23-30 and includes feature films, short films, film competitions and conference panels. See below for a list of the titles announced so far, and find out more about attending AFF here.
If you're ready to get festival season started already, don't forget that the 27th Anniversary Austin Gay and Lesbian International Film Festival (aGLIFF) takes place in just a couple of weeks (Sept. 10-14) at the freshly remodeled Alamo South Lamar and the Stateside Theatre. This year's festival includes over 100 films and the theme is "We're not an Audience. We're a Community."
aGLIFF's opening-night film will be Matt Shepard is a Friend of Mine and the centerpiece is Regarding Susan Sontag. The program promises a diverse array of genres and subjects and also includes a secret screening of "one of the best-reviewed films of 2014" -- any guesses? Either way, this year's fest looks like a thoughtful and festive collection of films and events. Badge information and the full lineup are available here.
Stay in touch for more festival updates, and read on for the festival-provided descriptions of the AFF films announced so far.
Black and White (Centerpiece Film)
Writer/Director: Mike Binder (in attendance); Cast in attendance: Jillian Estell. Starring Academy Award-winners Kevin Costner and Octavia Spencer, Black and White is the story of a widowed grandfather (Costner) who is left to raise his bi-racial granddaughter. When the little girl's paternal grandmother (Spencer) seeks custody, a bitter legal battle ensues that forces the uneasy family members to have an honest conversation about life, death, anger and America's racial divide. Also starring Anthony Mackie, Jennifer Ehle, Gillian Jacobs, Bill Burr, Andre Holland, and introducing Jillian Estell.
21 Years: Richard Linklater (World Premiere)
Director: Michael Dunaway, Tara Wood (in attendance). A spirited look at the first 21 years of writer/director Richard Linklater's remarkable career, featuring interviews with collaborators Matthew McConaughey, Ethan Hawke, Julie Delpy, Billy Bob Thornton, Keanu Reeves, Jack Black, and more.
7 Minutes (World Premiere)
Writer/Director: Jay Martin (in attendance); Cast in attendance: Luke Mitchell, Leven Rambin. Three former high school friends are forced to commit a brazen robbery that quickly goes horribly wrong. Featuring a cast of Kris Kristofferson, Luke Mitchell, Jason Ritter, and Leven Rambin.
Dawn Patrol (World Premiere)
Writer: Rachel Long, Brian Pittman (in attendance); Director: Daniel Petrie Jr. (in attendance); Cast and Crew in attendance: Scott Eastwood, Rita Wilson, Jeff Fahey, Chris Brochu, Kim Matula, Dendrie Taylor, Matt Meola, Rick Dugdale. A surfer-turned-Marine (Scott Eastwood) held at gunpoint tells his tragic story of revenge-gone-wrong to stall his execution. With the screenplay originating out of Austin Film Festival's 2008 Screenplay Competition, Dawn Patrol (formerly Stranded) was acquired by Dan Petrie Jr. and Rick Dugdale at Enderby Entertainment and makes its way back to Texas this October for its World Premiere.
One-Eyed Girl (World Premiere)
Writer: Craig Behenna, Nick Matthews (in attendance); Director: Nick Matthews; Cast in attendance: Mark Leonard Winter, Tilda Cobham-Hervey. A psychiatrist haunted by the death of a former patient stumbles upon a Doomsday cult and battles to save a teenage girl (Cobham-Hervey) from its clutches.
The Homesman (Texas Premiere)
Writer: Tommy Lee Jones, Wesley A. Oliver, Kieran Fitzgerald; Director: Tommy Lee Jones. When three women living on the edge of the American frontier are driven to the brink, the task of saving them from their surroundings falls to the pious, independent-minded Mary Bee Cuddy (Hilary Swank). Transporting the women by covered wagon to Iowa, she soon realizes just how daunting the journey will be, and employs a feisty low-life drifter, George Biggs (Tommy Lee Jones), to join her. The unlikely pair and the three women head east, where a waiting minister and his wife (Meryl Streep) have offered to take the women in. But the group first must traverse the harsh Nebraska Territories marked by stark beauty, psychological peril and constant threat.
The Imitation Game (Texas Premiere)
Writer: Graham Moore; Director: Morten Tyldum. Benedict Cumberbatch stars as Alan Turing, the genius British mathematician, logician, cryptologist and computer scientist who led the charge to crack the German Enigma Code that helped the Allies win WWII. Turing went on to assist with the development of computers at the University of Manchester after the war, but was prosecuted by the UK government in 1952 for homosexual acts which the country deemed illegal.
The Sound and the Fury (Texas Premiere)
Writer: Matt Rager, William Faulkner (Novel); Director: James Franco. Directed by and starring Academy Award® nominee James Franco, The Sound and The Fury captures the lives and passions of the Compsons, a once proud Southern family caught in a tragic spiral of loss and misfortune. Based on the novel by Noble Prize winner author William Faulkner and considered among the 20th century's greatest works, The Sound and the Fury encapsulates the universal theme of the death of honor, social injustice and forbidden love.
The Texas Promise (World Premiere)
Director: Vanessa Roth (in attendance). From Academy-Award ® winning documentarian, Vanessa Roth, The Texas Promise is the gripping story of equity, politics, money, and our children as historic decisions are being made about opportunity, the economy, and our democracy. When the Texas legislature cut $5.4 billion from public schools, it affected the daily lives of the 5 million students in Texas public schools and made Texas 49th in the country in per pupil spending. Texans took to the streets in protest, districts from across Texas sued the state, and ideological battle lines were drawn in Austin.
Also announced: AFF will continue its Guest Programmer Series this year, featuring retrospective films selected by notable writers and directors. Matthew Weiner will present The Twilight Zone, Jim Sheridan and Terry George will present In the Name of the Father, John Patrick Shanley will present Moonstruck, Randall Wallace will present Braveheart, and Tom Schulman will present Dead Poets Society. Each screening will be followed by an open discussion between the audience and the filmmakers on hand.
[Photo: Hilary Swank in The Homesman]