Shorts Break: 'My Mom Smokes Weed'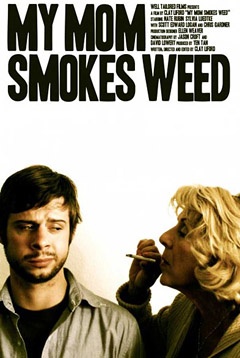 As a film critic, I hear a lot about websites where thieves steal and repost other critics' reviews, sometimes not even bothering to remove identifying material.
But this week, I got my first experience in seeing a purported "filmmaker" post short films to his website that he might claim are his, but obviously do not belong to him. I know this because I saw one of the films in its original incarnation: the very funny short My Mom Smokes Weed, from Austin filmmaker Clay Liford -- it screened at Austin Film Festival in 2009 as well as a number of other film fests. And if you've watched any of Liford's movies (Wuss, Earthling), you know this is so very much his trademark work that anyone else trying to pass it off as his own is an idiot.
If you haven't seen My Mom Smokes Weed, now's your chance. I've embedded it below. And as a bonus, I would like to point you to an Arts + Labor blog post that includes some of the back-and-forth between Liford and the genius who retitled the film Smoked and posted it to his film production site, as well as a link to the Reddit thread where Liford learned about the plagiarism in the first place. He's not the only filmmaker whose films this person is stealing.
When he's not battling moronic plagiarists, Liford is currently working on Slash (aka S/ash), the feature-length expansion of his short film of the same name. You can follow the status of that production on its Facebook page. The short screened at Fantastic Fest 2013 -- read Debbie's interview with Liford about the short and planned feature.
And now the authentic My Mom Smokes Weed (YouTube link), starring Nate Rubin and Sylvia Luedtke, shot in Dallas before Liford moved to Austin: