Shorts Break: Meet 'Keith and Heath'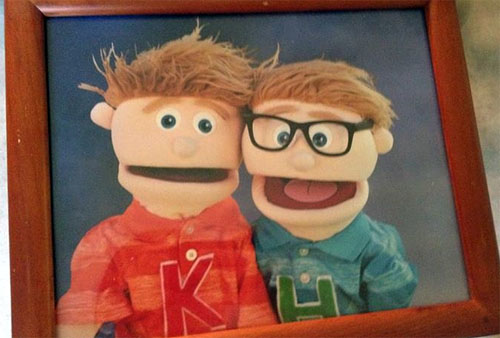 Shorts Break spotlights Austin and Texas short films that you can watch right here and now ... take a break and take a look!
For the inaugural edition of Shorts Break, I decided to go with puppets. You can't go wrong with puppets (just ask John Oliver), especially if there's a catchy tune too.
Keith & Heath is a short comedy from Andy Young, and if I'd written this two months ago, I would have called him "Austinite Andy Young" ... but he's just moved to Los Angeles after graduating from The University of Texas at Austin. Keith & Heath is his undergraduate thesis film. Young also worked on the Austin-shot feature Intramural. Rumor has it (okay, his Facebook page has it) that he's working for some other former Austinites this summer, the Duplass brothers. Besides being a filmmaker, he also contributes to Moviemaker Magazine (check out his recent interview with Richard Linklater).
The title characters are twin brothers who do everything together, and they sing about it cheerfully too (at least at first). It's very jolly until it gets ... very different. Jon Cozart, who has made his own successful YouTube videos as "Paint," voices the young men. The supporting cast includes Byron Brown, Sam Eidson, Katie Folger and Tony Vespe.
Keith & Heath was funded in part by a successful Kickstarter campaign earlier this year. Now Young has made it available for anyone to watch on YouTube (and below).
If you enjoyed that, Young has other shorts online, including The Brave Little Toaster Live-Action Reboot.
Want to recommend a short film to spotlight in Shorts Break? Contact us with "Shorts Break" in the subject line. The film should have Austin or Texas ties and be embeddable.