Lone Star Cinema: Enron: The Smartest Guys in the Room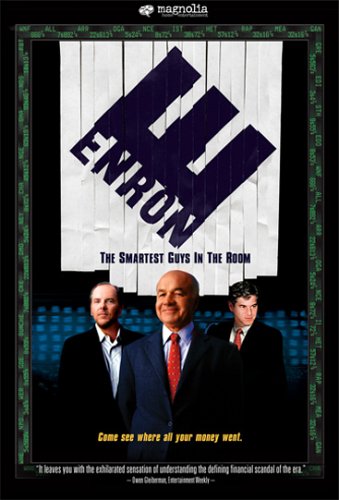 The names Ken Lay, Jeff Skilling and Andrew Fastow are not as prevalent in the media as they were in the last decade. These men, behind the success (such as it was) and severe failure of Enron, were eventually found guilty of fraud and other charges.
The 2005 documentary Enron: The Smartest Guys in the Room is based on the book of the same name. Director Alex Gibney (Taxi to the Dark Side, The Armstrong Lie) interviews the book's authors, journalist Bethany McLean and Peter Elkind, along with journalists, political figures and former Enron employees. Peter Coyote (E.T., Erin Brockovich), who could narrate practically anything and lend it a certain credence, talks of the bravado and bluff in the history of the energy-trading company based in Houston.
These interviews and Coyote's narration speak to the shenanigans going down at the once-praised company. The "macho culture" at the business is described, corraborated by video clips from an extreme motocross trip and discussion of one executive's love for strippers (with requisite strip club footage). Audio of male traders making rude and conspiratorial remarks is played over scenes from the 2000-2001 California electricity crisis. In such a case, it's not shocking that a woman, Sherron Watkins, turned whistleblower against Enron.
Enron: The Smartest Guys in the Room depicts the real-life events as a sort of morality tale, with many of the interviewees speaking about the lousy ethics of the company's business and their "synergistic corruption." The director includes C_SPAN video of Skilling before a Senate committee, lying about his part in the faulty financing Enron was using. Because the company appeared to be doing so well -- they were making loads of money, anyway -- any outside person who tried to ask important questions about the business or look closer at their dealings faced repurcussions.
Gibney makes neat use of graphics in his film, placing a ticker-like image with the date and Enron's stock price at that date under many of the events shown. This aids in chronicling the history of the corporation and illustrates the damage done by greed and pride.
Various interviewees in Enron: The Smartest Guys in the Room repeat the same metaphors, calling Enron a "house of cards" or comparing the business to the Titanic. Then again, it's not like they could say the downfall of Enron was as ill-fated as ... the downfall of Enron.
Texas connections: Enron was based in downtown Houston. Former Texas Governor/President George W. Bush plays a small but important role in the story.