TAMI Flashback: The Miss Wool of America Pageant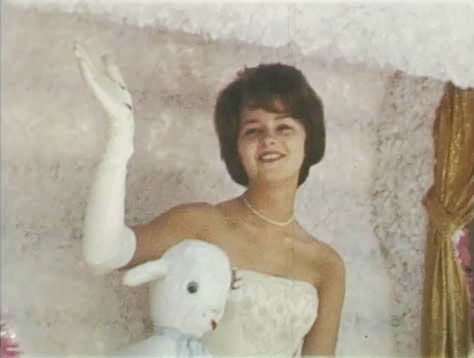 This article is the tenth in Slackerwood's second series about the Texas Archive of the Moving Image (TAMI) video library. For an overview of the TAMI site, refer to this article in the first series.
In this month's TAMI Flashback, we travel to San Angelo in the Sixties. The videos may make you happy you didn't live there then.
That is, unless you raised sheep at the time, in which case San Angelo was the place to be. The small West Texas city was known as the Wool Capital of the World -- and as if this weren't exciting enough, it also hosted the Miss Wool of America Pageant!
Held annually from 1952 to 1972 and sponsored by wool industry trade groups, the Miss Wool of America Pageant was a celebration of all things wool. It also celebrated all things sexist, as 20 Miss Wools from around the country paraded around a stage in the latest wool fashions, smiling vacantly and answering dumb questions. They competed for a tiara -- doesn't every girl want one? -- a new car, a scholarship, a new wardrobe (all wool!) and the honor of being the wool industry's not-quite-a-celebrity spokesmodel for a year.
In other words, the event was a Miss America pageant wannabe with hot, bulky dresses. And sheep. (Actually, the pageant wasn't completely low rent. The sponsors had enough money to turn it into a nationally televised event in its later years, featuring movie stars and pop singers.)
Thanks to a partnership with Angelo State University, the TAMI library includes nearly a dozen videos related to the pageant. Among them is Texas Beauty Named Miss Wool, a 1962 newsreel that conveys all you need to know about the pageant in one minute. As wool-clad beauties cavort with wool-clad lambs, the announcer says, "The lambs are cute, but not too bright. Who in his right mind would run away from these shepherdesses?" Yeah, who would? (The lambs are wearing diapers; wool isn't washable.)
[View original at Texas Archive of the Moving Image.]
Want to know more? Watch Pageantry in Wool -- The Miss Wool of America Pageant 1963, a half-hour TV special that follows the contestants as they arrive in San Angelo, attend events and parades, go on a Southwest Texas road trip and participate in the pageant.
This video is way more interesting than it sounds; it's a great memento of a time and place in rural America. We see the young residents of the West Texas Boys Ranch welcome the contestants -- all white, of course -- to a pancake breakfast featuring a black woman dressed as Aunt Jemima. Gov. John Connally also meets the contestants. We're then treated to several minutes of vintage T&A as the women frolic in a pool, and we realize how much fashion and beauty standards have changed -- the narrator tells us that to qualify for the pageant, a woman must fit in size 10 garments. (In other words, she can be built like ... a woman.)
After a road trip to Mertzon, Ozona and other wool industry towns and a run for the border to watch a bullfight in Ciudad Acuña, the women return to San Angelo for the pageant. At this point, the video becomes a bore; the event is just a wool fashion show masquerading as a beauty contest. The only interesting part is the gentleman presenting the crown: way-cool British actor Roddy McDowall, looking very hip in a beatnik beard. (McDowall was an A-lister in his home country and Hollywood. The pageant sponsors must have blown half their budget to hire him.)
[View original at Texas Archive of the Moving Image.]
If you watch Pageantry in Wool and still haven't had your fill of Miss Wool, don't miss the videos of three entire pageant telecasts. The best one is Miss Wool of America Pageant 1968, hosted by Art Linkletter and emceed by June Allyson. The pageant features lots of beehive hairdos and the supple song stylings of Frankie Avalon, whose solid rendition of "Going Out of My Head" is an amazingly cheese-free highlight.
Not so cheese free are Linkletter's silly interviews with the contestants. He asks Miss Wool of Colorado if she likes "fellas" -- she says she does. Then he asks her what she thinks of hippies. "I like them, too," she says, "but I like boys better." Ha ha! Take that, you America-hating, long-haired commies! You'll never score with Miss Wool -- 'cause we don't smoke marijuana in San Angelo!