AFS Doc Nights Preview: Sweet Dreams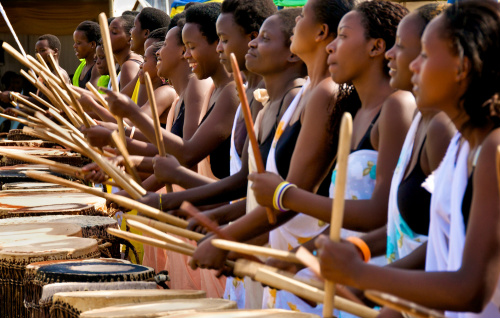 2014 marks 20 years since the Rwandan genocide. The months-long attack led by Hutus in 1994 resulted in the deaths of hundreds of thousands of Tutsis, almost 20 percent of the country's population. The 2012 documentary Sweet Dreams, screening next week for Austin Film Society's Doc Nights series, depicts a community-building program that is helping female Rwandans recover from those horrific events.
Ingoma Nshya is the first all-female drumming troupe in Rwanda, formed of Hutus and Tutsis. Some members lost family in the genocide, and some have family in jail for their participation in the mass killings. Troupe leader Kiki Katese meets some ice-cream makers from Brooklyn and is inspired to have the Rwandan women start their own shop, Inzozi Nziza (which means "sweet dreams").
Sweet Dreams has many interviews with women from the group. There's Clementine, a young woman who walks 1.5 hours to town for rehearsals. Another woman, whose parents are currently jailed, says, "If ever there's a place you can find peace, that place is Ingoma Nshya. That's where I was reborn." Co-directors Lisa and Rob Fruchtman follow the ladies through the formation of their co-op and past the troubled days leading up to the store's opening.
The satisfying story of these women and their triumph is countered with memories from those tragic months of the country's history. Scenes from a genocide memorial ceremony in 2011 are surprisingly intense, with President Kagame speaking over mournful, keening wails from people in the stadium. The drumming and passion of Ingoma Nshya give the movie an overwhelming feeling of hope and optimism for the future of Rwanda.
Austin Film Society is showing Sweet Dreams on Wednesday, July 16. [ticket info] Here's the trailer: