Review: Earth to Echo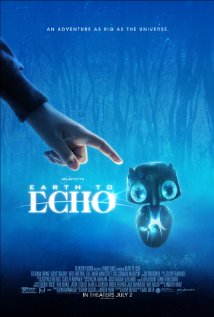 When watching a release from a first-time director, it's always difficult to know exactly what to expect. Judging by the previews, you might have expected Earth to Echo to be a sophisticated, effects-driven grand adventure on the scale of The Goonies or ET: The Extra-Terrestrial. What you'll get is a charming mashup that pulls its strongest influences from classics like ET, The Goonies and The Iron Giant but never finds enough of its own identity to become more than an "echo" of those sources.
Director Dave Green and writer Henry Gayden, who both worked on the small screen on the series Zombie Roadkill, have assembled a talented cast of relative unknown child actors including Teo Halm (Alex), Brian Bradley (Tuck), Reese Hartwig (Munch), and Ella Wahlestedt (Emma). The most recognizable face is the adult villain Dr. Madsen played by the unlikely Jason Gray-Stanford, best known as police Lt. Randy Disher in Monk. He turns in a very paint-by-numbers performance, but sees little screen time in a story shot entirely from the kids' point of view.
While people are calling Earth to Echo a found footage film, it is set as an autobiographical documentary shot and assembled by the character Tuck. When his friend Alex discovers that any cell phone brought into the vicinity of his house starts to exhibit unusual behavior, the two join their friend Munch, an electronics expert, to investigate. This begins a nighttime adventure as the trio follows clues to discover the tiny robot alien they name "Echo" and help it repair itself. They are joined later by their classmate and school crush, Emma as they are chased by alien hunter Dr. Madsen.
Green makes the most of a relatively low budget, with f/x used sparingly. In a refreshing departure from the found-footage mode, every shot is from a recognizable source: one of Tuck's cameras, one of the kids' mobile phones or Echo. All are edited by Tuck to tell his story.
At 89 minutes, the movie is light on character development. Each kid has just one defining characteristic. Tuck is obsessed with video, Munch is neurotic, and Alex is a foster child with abandonment issues. Emma provides a much-needed female presence, but her character is largely secondary (in fact, the boys refer to her more often as "Mannequin Girl" than by her name). While the characters are all early teens, the dialogue would be more believable for kids 8-10 years of age, the obvious target audience. The lack of depth will make this an easier film for that age group to enjoy.
Earth to Echo is an easy watch with ample family-friendly humor. Parents will recognize the sources, but kids will love this lighthearted adventure.