Photo Essay: 'Dawn of the Planet of the Apes' at Alamo Lakeline with Special Guests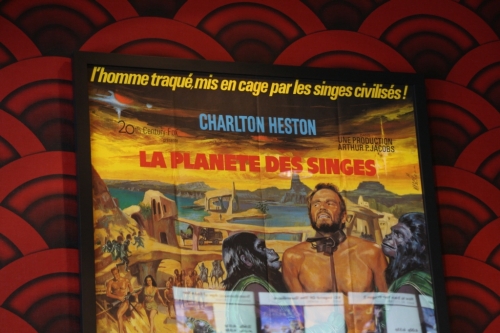 The lobby of the Alamo Drafthouse Lakeline has been Planet of the Apes themed since its opening last summer, so no theater in Austin (or anywhere, really) could have been more appropriately attired for a sneak preview screening of Dawn of the Planet of the Apes Sunday afternoon. The movie's stars Andy Serkis (Caesar) and Gary Oldman (Dreyfuss), along with director Matt Reeves, were there in person for a Q&A. I was there too and took plenty of photos.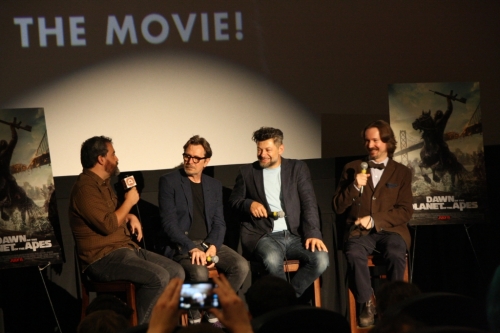 BadAss Digest writer Devin Faraci moderated the post-film Q&A during the live-streaming event, taking questions both from Twitter (with hashtag #ASKAPES) and the audience. You can watch the video here.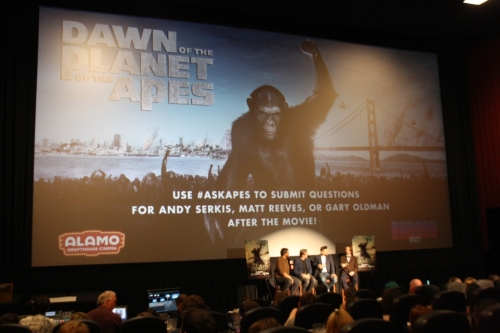 After the Q&A, five lucky viewers online won signed Mondo Planet of the Apes prints, and with incredible generosity, the stars signed copies of the movie poster for everyone in the audience.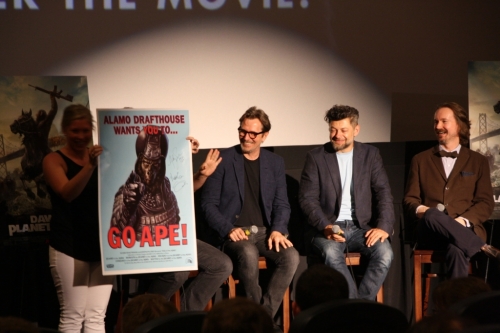 Dawn of the Planet of the Apes opens in theaters everywhere on Friday, July 11. Check back here then for our review. In the meantime, you can see all the photos I took from the special screening at the Slackerwood Flickr.