Review: Jersey Boys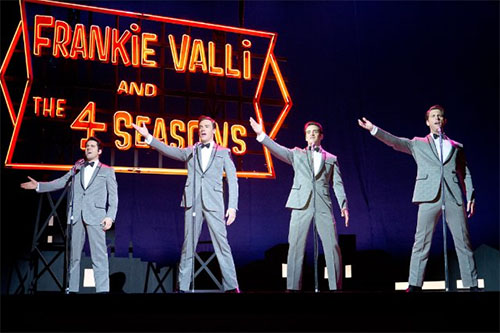 Directing Jersey Boys is an interesting career choice for Clint Eastwood. Did he make the right choice?
Fans of the stage musical Jersey Boys may think so; at its heart, the film is true to the smashingly successful stage version. It's also a safe bet that fans of the Four Seasons (Google them, millennials) will like the movie, which features many of the group's hits.
But fans of the exalted filmmaker's best work may be disappointed. Of course Jersey Boys isn't meant to be another Unforgiven, Million Dollar Baby or Gran Torino -- but even by the lightweight standards of crowd-pleasing musicals, Jersey Boys feels a bit empty.
A biography of the Four Seasons, Jersey Boys opens in mid-Fifties New Jersey, where teenage lead singer Frankie Valli (John Lloyd Young) and lead guitarist Tommy DeVito (Vincent Piazza), perform in New Jersey clubs with an early incarnation of the group, the Four Lovers. Among their fans is neighborhood gangster Gyp DeCarlo (Christopher Walken), who isn't a great role model for young Valli and but helps him escape a close call.
Bassist Nick Massi (Michael Lomenda) and talented songwriter and keyboardist Bob Gaudio (Erich Bergen) eventually join the group. But despite working with renowned producer Bob Crewe (Mike Doyal), the band finds little success; they're still playing local dives and working as backup singers. By this this time, Valli has gotten married -- and he and his wife, Mary (Renée Marino), already have problems as he tries to balance family and career.
The Four Lovers' fortunes change quickly when they rename themselves the Four Seasons, Gaudio pens their first hit, "Sherry," and they end up on American Bandstand. Sixties music fans know the rest: Valli and company have a string of iconic hits over the next few years. ("Big Girls Don't Cry," "Walk Like a Man" and "Rag Doll" are still in baby boomers' heads 50 years later.)
Of course, along the way there's plenty of drama; like many bands, the Four Seasons are far more harmonious onstage than off. Everyone fights about music, money and lovers. Life in the spotlight and on the road takes its toll, as Valli finds it impossible to be a good husband and father to a wife and daughters he rarely sees. Eventually, the band melts down under the pressures of its success and the astonishing corruption of one of its members. (Gyp DeCarlo, still a fan, is called in to save the day.)
The essential problem with Jersey Boys is that while it's full of wonderful feel-good musical vibes, its dramatic tension falls flat. The dramatic moments -- which should be the heart of the story -- arise quickly with little development or explanation, as if the band members suddenly turn on each other and their home lives suddenly fall apart. The film is so busy with its musical numbers that it only hints at the stories behind the stardom. Jersey Boys shares a fundamental flaw with most jukebox musicals (that is, musicals with scores featuring popular songs): It's designed to reel in audiences with familiar hits, and its story is little more than an afterthought, a barely visible framework for the music.
These dramatic shortcomings are surprising, given that Jersey Boys won a 2006 Tony Award for Best Musical. The show may have lost some of its creative spark and dramatic drive in its transition to film. As I said, the movie at its heart may remain true to its Broadway roots, but it tells its story in a different way. Whereas the stage version is structured as four "seasons" narrated by the group's four members, the film has a conventional and threadbare linear storyline.
The film does retain a few lines of the narration -- but as the characters break the fourth wall to comment on the action, I wonder why they bother. The serious scenes feel hollow and lack any real emotional punch, and the two-dimensional (at best) characters don't demand that we care. If Jersey Boys has any genuinely emotional moments, they're in the Four Seasons' still-catchy songs -- songs that stir up memories both pleasant and painful for audiences of a certain age.
Eastwood, of course, does his best with the material. Jersey Boys may lack depth and resonance, but its good qualities are polished to a typical Eastwood sheen. The film overflows with wonderful nostalgia, often looking as if it were filmed in the Fifties and Sixties rather than recreating the era. The humor -- long one of Eastwood's strengths -- always works. And if the drama feels false, the music rings true. Young, Bergen and Lomenda reprise their roles from the stage version, and their talent as live performers makes the songs shine. (All the songs are performed live on camera, rather than dubbed.)
So, did Eastwood make the right choice? Jersey Boys is no career builder -- but no one would argue that Eastwood's career needs a boost. (At this point in his stellar career, Dirty Harry can do whatever he wants.) So what if he has delivered an uneven and forgettable but pleasant bit of summertime fluff? If his goal is just to please the film's target audience -- not curmudgeonly critics -- he probably succeeded and made the right choice after all.