Review: Obvious Child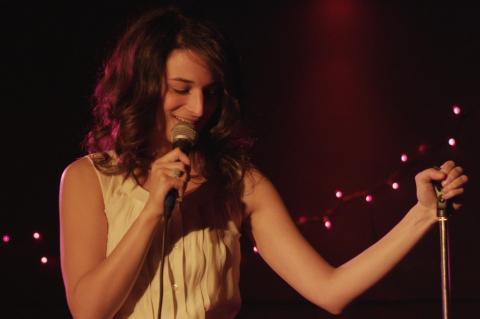 One of the films I regret missing at SXSW is Obvious Child, which opens in Austin on Friday. Jenny Slate (Saturday Night Live, Parks and Recreation) stars as Donna, a raunchy stand-up comedian. A one-night stand with cute yuppie Max (Jake Lacy, The Office) leads to Donna's accidental pregnancy, and she schedules an appointment to have an abortion. Unlike many other movies or TV shows (Juno, Sex and the City) where a character wants an abortion and then changes her mind, Donna is resolute in her decision.
What she is uncertain about is pretty much everything else. Her boyfriend just broke up with her in a gross bar restroom (props to the set designers for creating a truly dingy-looking bathroom). The bookstore where she works is closing, and her career in stand-up is far from explosive. Her mother (Polly Draper, thirtysomething) encourages her to make real plans for the future. Max seems too straight-laced to be her type, but Donna really likes him. She's just not sure what his response to her news will be.
Director Gillian Robespierre based her first feature on her 2009 short of the same name, which also starred Slate. There's a raw feeling to the humor and to Slate's portrayal of Debbie. Her post-breakup, wasted stand-up set is terrifically awkward for all involved. A small complaint would be that this set seems to last longer than it should, but it truly showcases Debbie's feeling of humiliation.
What I adore about Obvious Child is the deep heart underneath the scatalogical humor, sarcasm and doubt. The burgeoning relationship between Debbie and Max is a major plotline, but Robespierre and her co-writers (it seems about three other writers worked on the film since its conception as a short) place just as much importance on Debbie's relationships with her parents as well as her BFF Nellie (Gaby Hoffman, speaking against the patriarchy). Her divorced parents -- Spin City's Richard Kind plays her dad -- and Nellie are a great support system for Debbie, and also serve to ground the character.
The term "abortion comedy" has been used to describe Obvious Child, but that narrows the scope of all that the movie really is. Yes, it most definitely is a hilarious film wherein a woman has an abortion. But I think of it more as a great feminist romantic comedy.
And I'll take more feminist romantic comedies like this one and In a World..., please. Just watching Debbie and Max dance around in a sort of foreplay to Paul Simon's "Obvious Child" brought a big smile to my face.