Review: We Are the Best!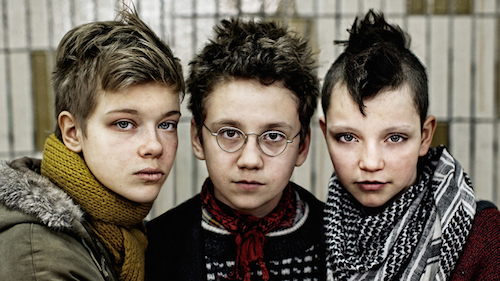 Swedish director Lukas Moodysson's filmography has had a spotty history of even being seen in the United States. His earlier works Show Me Love and Together managed to receive distribution here, but some of his more serious films (like the brutal sex-trafficking drama Lilya 4-ever and A Hole In My Heart) never were even properly released here. In 2009, he made his English-language debut with a film called Mammoth that IFC released stateside and then he fell off the radar for a few years.
He's finally returned to the big screen with We Are the Best!, a lighthearted adaptation of the graphic novel Never Goodnight, written by his wife Coco Moodysson. Set in 1982 Stockholm, we're introduced to Bobo (Mira Barkhammar) and Klara (Mira Grosin), two 13-year-old best friends who don't really fit in socially at school. They're tomboyish and seem to live in their own little world, mostly happy to be excluded by their peers and misunderstood by their parents. When they get the idea to start a punk band, they recruit a shy Christian girl from their class named Hedvig (Liv LeMoyne) who is an excellent guitarist. Since Bobo and Klara don't even know how to play instruments, they get Hedvig to help them prepare for a school talent show.
The young actors, all in their debut performances, are uniformly excellent. It's easy to identify with them as outcasts but also to root for their success. Moodysson is careful to present the story of these young women in a very innocent manner. They're just starting to become interested in boys, but for them the experiences aren't yet even sexual. Bobo and Klara are very close-knit, but their hormones are just starting to go wild enough to interfere with their relationship -- Bobo has a crush on Klara's older brother and they eventually fight over the boys in a local punk band.
As a band, their talent improves incrementally over time, but they still only manage to really perfect one punk anthem. The movie occasionally comes across as aimless and unfocused as a real teenager's life, but it smartly captures the dynamics of friendship in a time before cell phones and computers. Since the original graphic novel was based on Coco's own exploits as a budding punk in the early 1980s, there is a heartwarming authenticity on display that propels the story to its glorious ending.
We Are the Best! is an exuberant coming-of-age tale that is as "feel-good" an experience as I've had in the theater in ages.