Lone Star Cinema: Nadine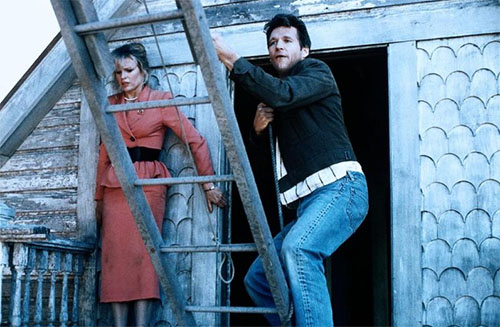 There were high hopes for the Austin-made comedy Nadine when it was released in 1987.
The filmmaker, Robert Benton, had an impressive track record as a screenwriter (Bonnie and Clyde, What's Up, Doc and Superman) and writer/director (The Late Show, Kramer vs. Kramer and Places in the Heart). Nadine also had two white-hot stars (Jeff Bridges and Kim Basinger) and a strong supporting cast (Rip Torn, Glenne Headly, Jerry Stiller and a host of other great character actors).
But sadly, Nadine was a flop -- and for the most part, deservedly so.
Nadine is the story of the titular Nadine Hightower (Basinger), a struggling hairstylist in 1954 Austin. Strapped for cash, she poses for some nude "art studies" but now has second thoughts about the photos. When she visits photographer Raymond Escobar (Stiller) to retrieve them, she witnesses his murder. She also mistakenly steals secret plans for a new road -- valuable plans to anyone wanting to buy land along the roadway.
Now a murder suspect, Nadine finds herself on the run from the police and from a band of thugs headed by criminal mastermind Buford Pope (Torn), who wants the road plans back. To help her escape, Nadine enlists her soon-to-be ex-husband, Vernon (Bridges), owner of a failing dive bar called the Bluebonnet. He agrees to help her -- but only so he can use the plans for his own financial gain.
The rest of Nadine is predictable: Nadine and Vernon stay one step ahead of the cops and criminals, try to cash in by buying real estate, and reignite their romance as they escape one close call after another. There are chase scenes and gunfire, jealousies and awkward misunderstandings, in an uninspired mix of caper film and romantic comedy.
Nadine starts promisingly enough; its opening scenes evoke Fifties noir films, as innocent blonde bombshell Nadine is drawn into a nefarious world of murder and greed. But the story quickly devolves into silliness and absurdity, with a nonsensical premise and goofy bad guys who seem too inept to harm anyone. And yet the film's climax is surprisingly bloody, as if Nadine is struggling to regain its earlier noir feel.
Nadine is a mediocre film at best, but not unwatchable. The pacing is a bit lethargic, but the movie is short enough (about 80 minutes) to avoid overstaying its welcome. In the film's better scenes, Nadine and Vernon have palpable chemistry; their bipolar mix of attraction and frustration is believable, and their love-hate banter is the best thing about the film. The script isn't great storytelling, but it does deliver some funny lines.
To its art directors' credit, at least Nadine does one thing very well: recreating the Fifties. The atmosphere and period details are spot on, from the store fronts to the postwar furnishings to the vintage beer bottles at the Bluebonnet. Austinites will find this nostalgia particularly interesting, as Nadine's crew transformed 1987 Austin into its 1954 counterpart. The locales are easy to spot, with only moderate makeovers: among them are Congress Avenue, the Grove Drug Store on Sixth Street, and the eternally funky, still-retro shopping center on North Loop Boulevard.
Not surprisingly, Nadine wowed neither critics nor audiences. A throwaway late summer release, it recouped less than half its budget and suffered tepid reviews. As Roger Ebert said, "Scene after scene just sort of sits there on the screen. The screenplay seems to be going through the motions. Stock supporting characters walk on, and they feel stock."
Still, Texas cinema fans might give Nadine a look; it's available online and on DVD. Viewing it online is by far the better deal -- Nadine isn't a particularly collectable film (except for true Texas film nerds), and the DVD has no extras other than subtitles.
Austin/Texas connections: Nadine was filmed in Austin. Rip Torn is from Temple, and Robert Benton is a Waxahachie native. Mickey Jones, who plays Pope's henchman Floyd, is from Houston. Several Texas actors have bit parts, including Shelby and Sidney Brammer (daughters of iconic Texas novelist Billy Lee Brammer), and longtime character actor and stuntman Loyd Catlett. Austin screenwriter Anne Rapp (Cookie's Fortune) was the movie's script supervisor. Also, you can impress your friends with this surprising bit of Texas film trivia: former Travis County Commissioner Sarah Eckhardt, now running for Travis County judge, was a production assistant on the film.