Review: Night Moves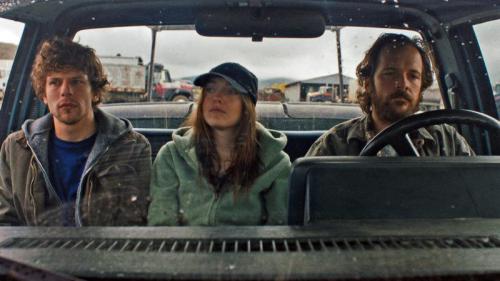 Kelly Reichardt is a deliberate filmmaker. The scenes she writes, directs and edits rarely feel hurried or careless, and the stories she tells, incredibly focused, have a way of slowly building towards bigger and (usually frightening) truths about society and the people who exist on its fringes.
Two of Reichardt's earlier films, Wendy and Lucy and Meek's Cutoff, portray melancholy wanderers with uncertain future prospects, and in many ways Night Moves does this, too. Though more overtly suspenseful than her previous work, her latest effort still maintains a measured restraint as the story advances towards a clearer view of the ambiguous situation at hand.
It's tough to describe the plot of Night Moves without giving too much away, but it's fair to say that eco-terrorism, paranoia, simmering frustration and CSA boxes all come into play. Set in gray, moody Oregon amongst co-op dwellers and vaguely rebellious idealists, the story follows three particularly ambitious outsiders as they work to carry out a law-breaking and attention-grabbing plan.
Anyone who is halfway paying attention knows that, thanks to humans, the environment is a wreck. Reichardt isn't here to reiterate the damage that has been done (well, the characters do touch on that a little), instead she primarily explores the conflict between wanting to effect change and not having the power to do anything that's actually helpful. Recycling and composting aren't enough to save the ocean's fish, and it's facts like this that inspire certain people to do drastic things.
Enter Josh (
Jesse Eisenberg
), Dena (
Dakota Fanning
) and Harmon (
Peter Sarsgaard
), gloomy loners so fed up with water-depleting golf courses and iPhone-obsessed consumers that they decide to band together to do something on a bigger scale. Calm and methodical, they gather supplies and only stop to discuss the basic logistics of their plan. They're like machines on a mission, each remaining closed off from one another and from the audience.
Eisenberg is rangy and brooding as Josh, the character who brings the team together. Sarsgaard as Harmon is more bitter than his younger cohorts and seems smart enough but not entirely dependable. Dena, though bold and driven, exists in a cloud of mystery that prevents the others from ever really trusting her. All three actors are persuasive in their roles, but the characters are thin and remain somewhat out of focus and unknowable.
The general mood of suspense works well, however. As she's known to do, Reichardt makes mundane moments feel weighted with meaning and captures the mood of a time and place flawlessly. It's during the dramatic pivots where her usual finesse falters a bit, and the scenes relying on the most action feel the least realistic.
But as a study of actions and their repercussions, Night Moves finds gripping success. Individuals may be helpless when it comes to reversing years of global environmental sin, but when it comes to overturning a carefully laid plan, one person is all it takes.
Night Moves opens today at the Violet Crown and the Regal Arbor.