Review: Filth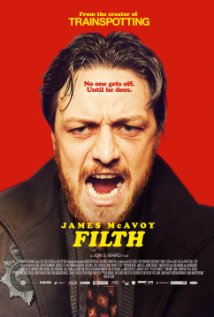 My first thought on how to describe Filth, which opens Friday for a nightly late-night run at Violet Crown, was that it felt something like Trainspotting meets Fight Club. Then I saw the credits and learned indeed it was based on the novel by Irvine Welsh, who also wrote Trainspotting. (I watched the movie before seeing any publicity materials that clearly indicate this fact.) That it stars James McAvoy (who bears some resemblance to Ewan McGregor) following a self-destructive path of crime and debauchery plays into this comparison.
Filth begins with a murder, which Bruce (McAvoy) is assigned to investigate. Success will lead to a promotion, which Bruce is hell-bent on achieving in hope of winning back the love of his estranged wife and eliciting the return of her and their child. Possessed of a mean streak, however, he spends more time pranking his fellow police in hope of ruining their chances of competing for the promotion.
Jon S. Baird, who wrote and directed Filth, is clearly influenced by Stanley Kubrick. The true plot reveals itself as the mystery unfolds over the course of the film, and Bruce frequently has hallucinations where he is transported to the hotel room from the final scene of 2001: A Space Odyssey. There his psychiatrist, Dr. Rossi (Jim Broadbent), berates him for being a pig and hints that his problems are at least in part due to not taking his medicine.
As he continues his downward spiral, scheming and causing trouble for his friends and coworkers, Bruce also attempts to fill the ever-growing hole in his heart with sex everywhere he can find it. He takes his best friend Bladesey (Eddie Marsan) on a brothel tour while also wooing his wife (Shirley Henderson, aka Moaning Myrtle from the Harry Potter series) as a prank phone caller.
Rarely would I so describe a movie, but Filth is very Scottish. Some of the dialogue was difficult to follow for one not familiar with the vernacular, though the loss of finer nuances did not make the plot unclear.
Neither as deep as Fight Club nor quite as dark as Trainspotting, Filth stands out as being dirtier than either. It's a sexy film that lets McAvoy do what he likes best: take a massively self-destructive character all the way to the bottom. It may not be celebrated as much as either predecessor, but it was a riveting performance with a twist ending that left me wanting more.