Review: Palo Alto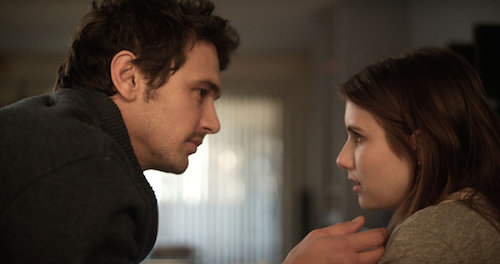 Twenty-seven-year-old Gia Coppola enters the family business with this hypnotically observational debut feature based on a short story collection by James Franco. She ended up focusing on several of his stories, combining characters and situations into one fleshed-out screenplay that attempts to examine the aimlessness of upper class teenage life in Southern California. Anchored by impeccable cinematography from Autumn Durald and a great score featuring original compositions by Blood Orange's Devonte Hynes and Gia's cousin Robert Schwartzman of the band Rooney, the film takes its time to float around the storyline without feeling unfocused.
April (Emma Roberts) runs with the popular crowd, but she doesn't quite fit in. She's shy, she plays soccer and is shamefully called out at parties for being a virgin. She has a crush on a quiet artist named Teddy (Jack Kilmer in his acting debut), but is being pursued by her single-dad coach Mr. B (Franco himself). As a frequent babysitter for his kid, April ends up having quite a bit of private time with Mr. B, which develops into an infatuation on his part. Roberts, who is herself a few years older than the character she is portraying, adds a believable realism to the relationship as a girl who is flattered and even excited about the attention, but can't really understand why a man who is so much older is attracted to her.
Teddy's best friend Fred (Nat Wolff) is completely out of control and a fairly bad influence. When Teddy gets into a drunk driving accident after they leave a party, Fred runs away from the car and leaves his friend to deal with being arrested on his own. This results in mandatory community service for Teddy and a little time away from his troublemaking pal and, eventually, allows him to reconnect with April.
These characters are all unquestionably children of privilege, but there is an authenticity to the dialogue and presentation of their lives that is not often seen in cinematic depictions of high school life. In one particularly raw and honest scene, April breaks down crying in the school bathroom, slumping to the floor in tears. Two of her classmates enter cackling with gossip, blissfully unaware of her existence, never mind her pain. It's just one of several perfectly showcased slices of life in Coppola's remarkably solid first feature.
Palo Alto is now playing at the Regal Arbor and Violet Crown Cinema.