TAMI Flashback: The Mary Kay Way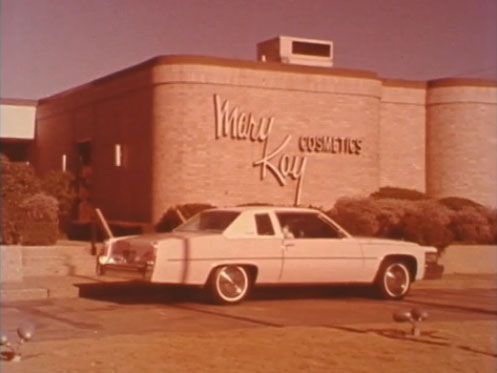 This article is the eighth in Slackerwood's second series about the Texas Archive of the Moving Image (TAMI) video library. For an overview of the TAMI site, refer to this article in the first series.
"They say Mary Kay does not play favorites. That's not true. They do. We're all favorites!"
-– Fictional Mary Kay Cosmetics beauty consultant Susan Anderson
It's tempting to mock the subject of this month's TAMI Flashback videos, Mary Kay Cosmetics. After all, Mary Kay epitomizes the beauty-industrial complex, which is built on the absurd and often cruel practice of telling women they aren't attractive unless they conform to conventional standards of beauty.
But this article is not about the way our culture treats women; it's about TAMI videos. So I'll refrain from mocking the Dallas-based cosmetics giant (it will be a challenge) and focus on three of its corporate films from the late Seventies and early Eighties.
Of course the films don't exactly discourage mockery, especially when the beauty consultants enthusiastically talk about eyeliner and sing the Mary Kay company song. But viewed decades later, the films are terrific time capsules. Produced by the Dallas-based agency Bill Stokes Associates, they effectively capture the Mary Kay corporate culture and Dallas life in the mid-20th century. (Full disclosure: I know this time and place all too well. I lived in Dallas at the time, and my high-school best friend's father was a Mary Kay executive.)
The first video is the Mary Kay recruiting film All Your Tomorrows. Made in 1980, it's the fictional story of Susan Anderson, who becomes a part-time Mary Kay beauty consultant while looking for a job. In the world of All Your Tomorrows, selling cosmetics is a breeze; Anderson is so successful that she's soon selling cosmetics full time and is eligible to be a sales director. (Not shown in the film: The far more difficult reality of selling, well, anything.) She attends a Mary Kay DIQ (Director in Qualification) Week in Dallas, where she learns more about the cosmetics business, bonds with other prospective directors by dancing the Cotton-Eyed Joe and listening to a horrid rendition of "Climb Every Mountain," and meets company founder Mary Kay Ash. Everything is sunshine and happiness and success, with lots of exciting corporate film music! (And everyone is white! Mary Kay had a surprisingly progressive reputation as an equal opportunity employer that employed many people of color, but you wouldn't know it from watching All Your Tomorrows.)
At the end of DIY Week, Anderson gives an inspiring speech to a room full of teary-eyed women, promising that soon she will become a director -- and to remind everyone of her success, she will drive a new Buick Regal. Then she attends the company's annual sales convention known as Seminar. It's a glitzy festival of big hair and bigger enthusiasm, wherein the top sellers are rewarded with pink Cadillacs and the Queen of Unit Sales is crowned -- yes, with an actual crown. (Sigh ... Must. Not. Mock. It is so hard.)
[View original at Texas Archive of the Moving Image.]
Another Mary Kay recruiting film is It's a Way of Life. Focusing on Mary Kay Ash and the company's history and business practices, the 1977 film is more subdued and factual than All Your Tomorrows. Ash discusses the company's early days (she founded it in 1963), sounding entirely sincere as she talks about women becoming their own bosses: "Our company was started with the objective of giving women an opportunity to do anything in the world they were smart enough to do," she says with such seriousness that we believe it.
The women's empowerment theme of It's a Way of Life is heartening, and the film is very effective in this respect. It makes you believe in the Mary Kay Way as Ash describes how she built a business by herself so that other women could do the same -- and several beauty consultants testify that their Mary Kay careers changed their lives for the better.
Far less heartening are the numerous religious references, such as when a company official explains that "our whole concept is God first, family second, and career third." Apparently, atheists and other skeptics needed to find another, non-Mary Kay way. Maybe that's just as well, because selling Mary Kay would require them not only to believe in God (or at least say they do) but also to sing the embarrassingly hokey company song. ("I've got the Mary Kay enthusiasm down in my heart, down in my heart to stay!")
[View original at Texas Archive of the Moving Image.]
The warmest and fuzziest of the three TAMI Mary Kay videos is Capture the Vision, a 1981 motivational film intended for current Mary Kay consultants. Made in 1981, Capture the Vision is awash in platitudes and lush backdrops as it reminds consultants that their jobs are about far more than selling lipstick and winning mink coats. Ash appears frequently in the film, telling the audience that the company was founded on the Golden Rule and maintains the highest standards of professionalism. (Remember, ladies: Always wear skirts or dresses to meetings, and never serve alcohol! But wouldn't a few cocktails increase sales dramatically?)
Capture the Vision is occasionally poignant and meaningful. But not to worry, snarky TAMI video fans: The hilariously surreal final scene does not disappoint. At a company meeting, Ash ends a speech by quoting the lyrics of "The Impossible Dream" from Man of La Mancha. With all earnestness, she looks at the audience through enormous Eighties glasses and says, "This is my quest, to follow that star, no matter how hopeless, no matter how far ... to reach the unreachable star." You know -- just like Don Quixote!
But if that star really is unreachable, there's always a pink Cadillac. Maybe we should mock Mary Kay after all.